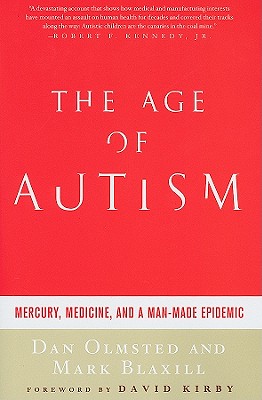 The Age of Autism: Mercury, Medicine, and a Man-Made Epidemic (Hardcover)
Mercury, Medicine, and a Man-Made Epidemic
Thomas Dunne Books, 9780312545628, 448pp.
Publication Date: September 14, 2010
* Individual store prices may vary.
or
Not Currently Available for Direct Purchase
Description
A groundbreaking book, THE AGE OF AUTISM explores how mankind has unwittingly poisoned itself for half a millennium
For centuries, medicine has made reckless use of one of earth's most toxic substances: mercury—and the consequences, often invisible or ignored, continue to be tragic. Today, background pollution levels, including global emissions of mercury as well as other toxicants, make us all more vulnerable to its effects.  From the worst cases of syphilis to Sigmund Freud's first cases of hysteria, from baffling new disorders in 19th century Britain to the modern scourge of autism, THE AGE OF AUTISM traces the long overlooked history of mercury poisoning.
Now, for the first time, authors Dan Olmsted and Mark Blaxill uncover that history.  Within this context, they present startling findings:  investigating the first cases of autism diagnosed in the 1940s revealed an unsuspected link to a new form of mercury in seed disinfectants, lumber fungicides and vaccines. In the tradition of Silent Spring and An Inconvenient Truth, Olmsted and Blaxill demonstrate with clarity how chemical and environmental clues may have been missed as medical "experts," many of them blinded by decades of systemic bias, instead placed blamed on parental behavior or children's biology. By exposing the roots and rise of The Age of Autism, this book attempts to point the way out – to a safer future for our children and the planet.
About the Author
Mark Blaxill was a senior partner at The Boston Consulting Group and is now a managing partner at 3LP Advisors. The father of a child diagnosed with autism, he has been involved in autism advocacy for over a decade and has written widely on the scientific controversies surrounding autismDan Olmsted is Editor of Age of Autism. He has been a journalist for 35 years and was an original staff member of USA Today and Senior Editor of USA WEEKEND and United Press International. He lives in Falls Church City, Virginia and is a member of the National Press Club.
Praise For The Age of Autism: Mercury, Medicine, and a Man-Made Epidemic…
"Olmsted and Blaxill's devastating account shows how medical and manufacturing interests have mounted an assault on human health for decades and covered their tracks along the way.  The Age of Autism is only the latest episode in centuries of crimes against nature but is in many ways the most troubling.  Autistic children are the canaries in the coal mine; shame on all of us if we don't heed their distress call."- Robert F. Kennedy, Jr.
"The Age of Autism lays out disturbing evidence that mercury from many sources is a major factor in the rise of this tragic epidemic. And vaccines are by no means off the hook.  One wonders why doctors who gave children multiple vaccinations loaded with the neurotoxin thimerosal (mercury) didn't also hand the kids a pack of cigarettes. Make sure your doctor sees a copy of this timely book."-Dierdre Imus
 "A fascinating read that shatters many myths of the very real autism epidemic that is happening before our eyes.   Every parent will benefit from Olmsted and Blaxill's well-researched story of the environmental factors contributing to autism, and perhaps leave with ideas for how to start recovering their child today."|-Jenny McCarthy, author of LOUDER THAN WORDS:  A Mother's Journey in Healing Autism
 "A fascinating medical detective story that should change the way we think about and investigate environmental toxins and neurological disease.  Advocates for the autistic will be both dismayed and gratified, and the rest of us will be unsettled, by this thorough historical and scientific account."--
Gary Greenberg
, author of MANUFACTURING DEPRESSION
"THE AGE OF AUTISM is an exquisitely reported examination of not just autism but the silent role mercury has played in epidemics from syphilis-related insanity to Freud's female hysterics to escalating rates of autoimmune diseases including Crohn's.  Olmsted and Blaxill drill deep into evidence that will shock you, anger you, and leave you with one burning question: why are we still allowing mercury to poison our world, our children, ourselves?"
 -Donna Jackson Nakazawa, author of THE AUTOIMMUNE EPIDEMIC
Advertisement