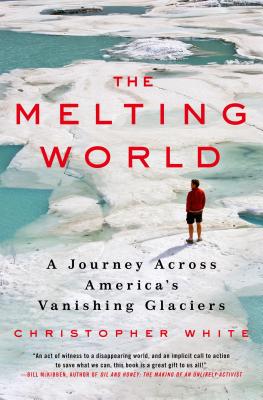 The Melting World (Hardcover)
A Journey Across America's Vanishing Glaciers
St. Martin's Press, 9780312546281, 288pp.
Publication Date: September 3, 2013
* Individual store prices may vary.
Description
Global warming usually seems to happen far away, but one catastrophic effect of climate change is underway right now in the Rocky Mountains. In The Melting World, Chris White travels to Montana to chronicle the work of Dan Fagre, a climate scientist and ecologist, whose work shows that alpine glaciers are vanishing rapidly close to home. For years, Fagre has monitored the ice sheets in Glacier National Park proving that they—and by extension all Rocky Mountain ice—will melt far faster than previously imagined. How long will the ice fields survive? What are the consequences on our environment? The Melting World chronicles the first extinction of a mountain ecosystem in what is expected to be a series of such global calamities as humanity faces the prospect of a world without alpine ice.
About the Author
Christopher White has written numerous books, including Skipjack: The Story of America's Last Sailing Oystermen and The Melting World: A Journey Across America's Vanishing Glaciers. His articles have appeared in Audubon, The Baltimore Sun, The New Mexican, National Geographic, and Exploration. He grew up on the shores of the Chesapeake Bay.
Praise For The Melting World: A Journey Across America's Vanishing Glaciers…
"An act of witness to a disappearing world, and an implicit call to action to save what we can, this book is a great gift to us all!" —Bill McKibben, author Oil and Honey: The Making of an Unlikely Activist
"The Melting World is both a hymn of praise and a requiem for the passing beauty of alpine snowfields. In the tradition of John McPhee and Norman Maclean, Christopher White chronicles the men and women racing against climate change to understand the mysteries of the frozen world, even as it inexorably disappears from view. Rich in vivid detail and lovely prose, White's gorgeous and heartbreaking book will appeal to adventurers and scientists and anyone else who cares for our beloved planet." —McKay Jenkins, author of The White Death: Tragedy and Heroism in an Avalanche Zone