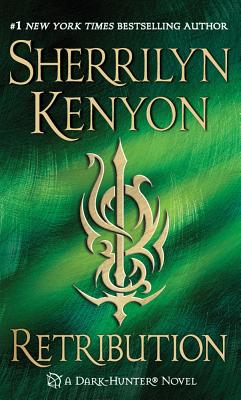 Retribution (Mass Market Paperbound)
St. Martin's Press, 9780312546601, 369pp.
Publication Date: March 27, 2012
Description
Retribution
Sherrilyn Kenyon
Orphaned as a child and raised by vampires, Abigail Yager lives for one purpose, and one purpose only: To avenge the deaths of vampires everywhere. To destroy the merciless Dark-Hunters who stalk and kill her adoptive race. But most of all, to find the one man responsible for brutally murdering her family: the ex-gunslinger Jess "Sundown" Brady

Resurrected from death by a vengeful Greek goddess, Jess must hunt and destroy the creature who's assassinating Dark-Hunters. The last thing he expects to find is a human face behind the killings and especially one resembling the human who'd murdered him centuries ago. Jess knows he's not the one who slaughtered Abigail's parents. But now he must convince her of his innocence and cross the abyss between human and vampire before the darkest of powers rises to destroy them both
About the Author
In the past two years, New York Times bestselling author Sherrilyn Kenyon has claimed the #1 spot fifteen times. This extraordinary bestseller continues to top every genre she writes. With more than 25 million copies of her books in print in over 100 countries, her current series include: The Dark-Hunters, Chronicles of Nick, The League, and Belador.
Praise For Retribution…
PRAISE FOR SHERRILYN KENYON

"Kenyon's writing is brisk, ironic, sexy, and relentlessly imaginative."—Boston Globe
 "[A] publishing phenomenon…[Sherrilyn Kenyon is] the reigning queen of the wildly successful paranormal scene. . .Just one example of arguably the most in-demand and prolific authors in America these days." —Publishers Weekly
AND HER BESTSELLING DARK-HUNTER NOVELS…
BAD MOON RISING
"A skillfully written and entertaining tale…rich with complex characters, snappy dialogue, and sweet moments." —Tulsa World
ACHERON
"Acheron sucks you into Kenyon's world and keeps you there from the first page until the last."—Midwest Book Review
DEVIL MAY CRY
"An engaging read."—Entertainment Weekly
DARK SIDE OF THE MOON
"A delicious balance of suspense and sensuality."—Publishers Weekly
"Kenyon delivers the goods readers have come to expect, and more." —Booklist
SEIZE THE NIGHT
"[Kenyon]succeeds in offering a lively read containing her signature blend of brisk action, sensual thrills, and light humor." —Publishers Weekly
DANCE WITH THE DEVIL "Kenyon's Dark-Hunter books are changing the face of the vampire novel, making it hip, darker, and all the more appealing." —
Publishers W
Advertisement