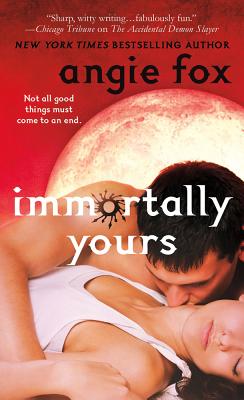 Immortally Yours (Mass Market Paperbound)
St. Martin's Press, 9780312546663, 306pp.
Publication Date: August 28, 2012
* Individual store prices may vary.
or
Not Currently Available for Direct Purchase
Description
Immortally Yours
Angie Fox
IN THE WAR BETWEEN THE GODS
No one patches up the incoming wounded like Dr. Petra Robichaud. Recruited by the gods for her uncanny medical skills, she's the best M*A*S*H surgeon in the army. Along with a nosy guard sphinx, vegetarian werewolf, and otherparanormal paramedics, she bandages soldiers who are built like Greek gods (literally). But when one sexy immortal ends up on her operating table half dead and totally to-die-for Petra's afraid she'll lose her patient and her heart
NOTHING IS MORE DANGEROUS THAN LOVE
Commander Galen of Delphi is one gorgeous but stubborn demi-god. When his spirit tries to slip out of his fatally wounded body, Dr. Petra has to slip it back in unwittingly revealing her ability to see ghosts. Now that Galen knows her secret, he's convinced she's part of an ancient prophecy. If the oracles are right, Petra could lead Galen's army to peace. And if he seduces her on the way to hell and back? Heaven knows all's fair in love and war
About the Author
Angie Fox is the New York Times bestselling author of books about demon slayers, werewolves and things that go bump in the night. She claims that researching her books can be just as much fun as writing them. In the name of fact-finding, Angie has ridden with Harley biker gangs, explored the tunnels underneath Hoover Dam and found an interesting recipe for Mamma Coalpot's Southern Skunk Surprise (she's still trying to get her courage up to try it).
Praise For Immortally Yours…
PRAISE FOR ANGIE FOX
and her bestselling novels
"SEXY, SASSY AND SINFULLY FUNNY!" --Kerrelyn Sparks, New York Times bestseller
"With its sharp, witty writing and unique characters, Angie Fox's contemporary paranormal debut is fabulously fun."—Chicago Tribune on The Accidental Demon Slayer
"A new talent just hit the urban fantasy genre, and she has a genuine gift for creating dangerously hilarious drama."—RT Book Reviews on The Accidental Demon Slayer
"Angie Fox has done it again. In the latest adventure featuring the fabulous demon slayer Lizzie Brown, Fox deftly creates complex characters with a gift for gab, weaving multiple storylines together to create side-splitting encounters that are both romantic and suspenseful."—RT Book Reviews on The Last of the Demon Slayers (4 1/2 stars!)
"The Accidental Demon Slayer is a delightful new paranormal romance that is hilarious, exciting, suspenseful, dangerous, and an adventure ride of action from start to finish. The characters are eccentric, the writing flows great, and the storyline is original. I adored every page of this outstanding debut novel and I hungrily look forward to getting my hands on Angie Fox's next book."—Fresh Fiction
"Ms. Fox details her world with colorful characters that have mysterious pasts, and keeps readers engaged with humorous mishaps, blossoming romance and spells gone awry. The Accidental Demon Slayer is a fast moving good time that will quickly gain fans."—Darque Reviews
"Sharp, witty and refreshing. I savored every minute of this story."—Manic Readers on The Dangerous Book for Demon Slayers
"A demonically delightful paranormal romp. I didn't want it to end."—Michelle Rowen on The Accidental Demon Slayer
"Sexy…slapstick hijinks will please comedy fans."—Publishers Weekly on Angie Fox's story in So I Married a Demon Slayer
 "Plenty of romance as well as humor…an amusing and entertaining read."—Night Owl Reviews on Angie Fox's story in My Zombie Valentine
Advertisement