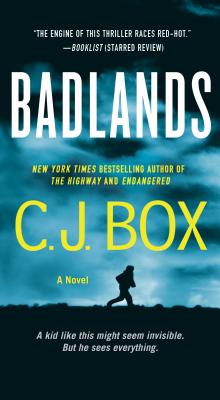 Badlands (Cassie Dewell #2) (Mass Market Paperbound)
Minotaur Books, 9780312546908, 384pp.
Publication Date: August 2, 2016
Description
In C.J. Box's Badlands, the town of Grimstad used to be a place people came from but were never headed to. Now it's the oil capital of North Dakota. With oil comes money, with money comes drugs, and with drugs come the dirtiest criminals Grimstad's new deputy sheriff Cassie Dewell has ever encountered. . .
Twelve-year-old Kyle Westergaard dreams of getting out of Grimstad and leading a better life. Even though Kyle has been written off as a "slow" kid, he has dreams deeper than anyone can imagine. One day, while delivering newspapers, he witnesses a car accident and takes a mysterious bundle from the scene. Suddenly he's in possession of a lot of money--and packets of white powder--and Kyle can't help but wonder whether his luck has changed...for better or for worse.
"Suspenseful--you can't put it down.''--Library Journal
When the temperature drops to 30 below and a gang war heats up, it's up to Cassie to help restore law and order. But is she in over her head? As she is propelled on a collision course with a murderous enemy, she finds that the key to it all might come in the most unlikely form: a boy on a bike named Kyle. He keeps showing up where he doesn't belong. And he seems to know something that Cassie does not about what lies beneath the surface of this small and troubled town...
"The unrelenting cold makes this the perfect beach read."--Kirkus Reviews
This edition of the book is the deluxe, tall rack mass market paperback.
About the Author
C. J. Box is the New York Times bestselling author of many novels including the Joe Pickett series. He has won the Edgar Alan Poe Award for Best Novel (Blue Heaven, 2009) as well as the Anthony Award, Prix Calibre 38 (France), the Macavity Award, the Gumshoe Award, the Barry Award, and the 2010 Mountains & Plains Independent Booksellers Association Award for fiction. Open Season, Blue Heaven, Nowhere to Run, and The Highway have been optioned for film and television. Over four million copies of his novels have been sold in the U.S. alone and they have been translated into twenty-seven languages. He lives in Wyoming.
Advertisement