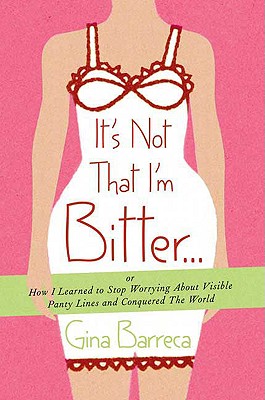 It's Not That I'm Bitter . . .
Or How I Learned to Stop Worrying About Visible Panty Lines and Conquered the World
Hardcover

* Individual store prices may vary.
Other Editions of This Title:
Paperback (6/8/2010)
Paperback, Large Print, Large Print (5/12/9009)
Description
In a world where eye cream is made from placenta, Gina Barreca is the lone voice calling out "But wait, whose placenta is it?" She asks the crucial questions: Why is there no King Charming? Why does no bra ever fit? Why are there no tutus in XL? Why do more intelligent women have trusted psychics than have trusted financial advisors? While she definitely wants everyone to know that she's not bitter, Gina does want to know why no one realizes that Anne Bancroft was only thirty-six when she played Mrs. Robinson, the quintessential cougar. In "It's Not That I'm Bitter..." Gina shouts out her message to women everywhere: "You are smart enough to conquer the world, so please stop weeping when you try on bathing suits at T.J. Maxx." As Gina declares "The world lies to us and we want to believe. We want to believe that, if we wear a pair of palazzo pants with a latex escape hatch built into the stomach area, we'll appear five pounds slimmer instantly... We torture ourselves, even though we are smart broads." In deliciously quotable essays on the ability of both chin hairs and tweezers to affect your life, the reason every woman believes she's crazy, the possibility that the "glass ceiling" may just be a thick layer of men, and thoughts on intimate conversations she'd have with Michelle Obama, Hillary Clinton, Cindy McCain and Sarah Palin, Barreca gleefully rejects the emotional torture, embraces the limitless laughter, and shows other women how they can conquer the world with a sharp wit, good shoes and not a single worry about VPLs.
Praise For It's Not That I'm Bitter . . .: Or How I Learned to Stop Worrying About Visible Panty Lines and Conquered the World…
"Fans of Nora Ephron's I Feel Bad About My Neck: And Other Thoughts on Being a Woman will find humor along with serious insights about women and aging in Barreca's latest challenge to women to "stop obsessing over hymens, husbands, and hangnails and once again direct our attention outward to the larger issues of... the creation of genuinely significant opportunities for women in all workplaces." But Barreca (Perfect Husbands & Other Fairy Tales) is more about laughs than lecturing, as she addresses the mysteries of finding the perfect bra, the indignities of bathing suit shopping at TJ Maxx, her relationship with her hair and the "Fifty-two Things I Learned by Fifty-one." Along the way, she points out what she considers to be the insipid concerns of holiday preparations or what exactly women may consider to be a waste of time ("Why, oh why, didn't I organize my closet according to color and texture of garment?"). Between the snappy observations, Barreca takes an opportunity to liken the progression of contemporary feminist thought to a car accident—"it's not so much that we're in a backlash as we're in a whiplash."--Booklist
"Gina Barreca is very, very funny. For a woman." – Dave Barry
"Some people are funny in an acid-edged cocktail lounge, like Dorothy Parker, in a smoky French cafe, like David Sedaris, or in a crazy English country house, like P.G. Wodehouse. Gina is funny in your kitchen, in the ladies' room of your favorite restaurant, in the awful dressing room with forty-seven ugly bathing suits around you. Gina Barreca is funny, for real." – Amy Bloom
"Regina Barreca's prose, in equal measures, is hilarious and humane. Her no-holds-barred observations make me laugh, tear up a little, and nod my head in recognition. A witty paisana, Barreca packs a punch and lays bare our foibles." – Wally Lamb
St. Martin's Press, 9780312547264, 240pp.
Publication Date: May 12, 2009
About the Author
GINA BARRECA, Ph.D. is a professor of English and Feminist Theory at the University of Connecticut and author of "Babes in Boyland, They Used to Call Me Snow White, but I Drifted" and "I'm With Stupid: One Man, One Woman, and 10,000 Years of Misunderstandings Between The Sexes Cleared Right Up ("coauthored with Pulitzer Prize-winner Gene Weingarten of "The Washington Post)." She grew up in Brooklyn and now lives in Storrs, CT. Go figure.
or
Not Currently Available for Direct Purchase