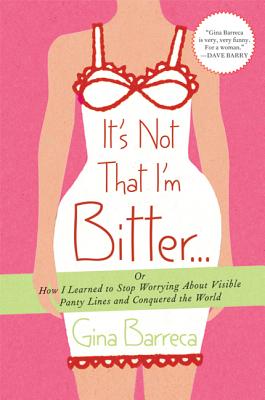 It's Not That I'm Bitter . . .
Or How I Learned to Stop Worrying About Visible Panty Lines and Conquered the World
Paperback

* Individual store prices may vary.
Other Editions of This Title:
Paperback, Large Print, Large Print (5/12/9009)
Description
In a world where eye cream is made from placenta, Gina Barreca is the lone voice calling out "But wait, whose placenta is it?" In this collection of deliciously quotable essays, Gina asks the big questions: Why is there no King Charming? Why does no bra ever fit? Why do people say "cougar" like it's a bad thing? Why do we call it a glass ceiling when it's just a thick layer of men? Barreca packs a hilarious punch while gleefully rejecting emotional torture, embracing limitless laughter, and showing women how they can conquer the world with good friends ("It's not that diamonds are a girl's best friend, but a girl's best friends are diamonds"), sharp wit, great shoes, and not a single worry about VPLs.
Praise For It's Not That I'm Bitter . . .: Or How I Learned to Stop Worrying About Visible Panty Lines and Conquered the World…
"Gina Barreca is very, very funny. For a woman." —Dave Barry

"From spotting chin hairs in a rear-view mirror to finding a bra that never fits, the book is 120-mph humor!" —Cindy Adams, The New York Post

"These eminently readable pieces will have people laughing out loud, then sighing thoughtfully. Many readers, especially women, will enjoy, discuss, and reread this quick, breezy work of commentary, a book that stirs up dust long after its covers are closed." —Booklist

"Barreca is probably the funniest woman writing in America. She does what all great comedians do, latches onto the absurd, looks at it from a number of equally absurd angles and is pretty fearless at making fun of anything, including herself." —Rita Ciresi, award-winning author of Mother Rocket and Pink Slip

"Fans of Nora Ephron's I Feel Bad About My Neck: And Other Thoughts on Being a Woman will find humor along with serious insights about women and aging...Between the snappy observations, Barreca takes an opportunity to liken the progression of contemporary feminist thought to a car accident--it's not so much that we're in a backlash as we're in a whiplash." —Publishers Weekly

"Barreca… is a brilliant and witty writer." —Psychology Today

"University of Connecticut English Professor Barreca offers feminism for the everywoman in these humorous essays. Expect poignant insights tucked between the laugh lines." —Ms. Magazine

"Some people are funny in an acid-edged cocktail lounge, like Dorothy Parker, in a smoky French cafe, like David Sedaris, or in a crazy English country house, like P.G. Wodehouse. Gina is funny in your kitchen, in the ladies' room of your favorite restaurant, in the awful dressing room with forty-seven ugly bathing suits around you. Gina Barreca is funny, for real." —Amy Bloom

"This thought-provoking book entertains while it educates and enlightens. Wise women will get what she writes about; wise men would do well to read it, too." —Hartford Courant

"Regina Barreca's prose, in equal measures, is hilarious and humane. Her no-holds-barred observations make me laugh, tear up a little, and nod my head in recognition. A witty paisana, Barreca packs a punch and lays bare our foibles." —Wally Lamb
St. Martin's Griffin, 9780312547271, 240pp.
Publication Date: June 8, 2010
About the Author
GINA BARRECA, Professor at UConn, wrote Babes in Boyland, They Used to Call Me Snow White but I Drifted and co-authored I'm With Stupid: One Man, One Woman, and 10,000 Years of Misunderstandings Between The Sexes Cleared Right Up with Pulitzer Prize winner Gene Weingarten. She grew up in Brooklyn, NY but now lives in Storrs, CT. Go figure.