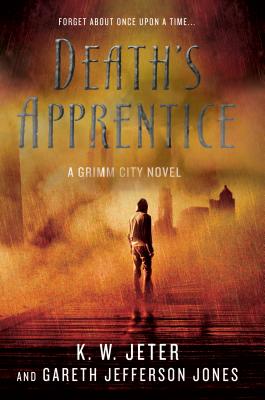 Death's Apprentice (Hardcover)
A Grimm City Novel
Thomas Dunne Books, 9780312547714, 304pp.
Publication Date: October 30, 2012
Other Editions of This Title:
MP3 CD (10/30/2012)
Compact Disc (10/30/2012)
Other (10/1/2012)
* Individual store prices may vary.
Description
Death's seventeen-year-old apprentice must learn to stand on his own as he leads an uprising against the Devil

Forget about Once Upon a Time . . .
Built on top of the gates of Hell, Grimm City is the Devil's capital on earth. A place where every coffee shop, nightclub and shopping mall is the potential hunting ground for a ghost, a demon, or any of the other supernatural entities that inhabit the Grimm City world.
Death's seventeen-year-old apprentice, Nathaniel, comes into his own as he leads an uprising against the Devil with the help of a half-dead wraith and a giant hit-man. What results is a bloody, brutal revolt that calls upon the loyalties of both the living and the dead.
Based not only upon the Brothers Grimm well-known fairy tales, but also upon their "unknown" sagas and essays, K. W. Jeter & Gareth Jefferson Jones's Death's Apprentice is the first novel to be based upon the entire Grimm canon. Such a comprehensive, in-depth adaptation of the works of the Brothers Grimm has never been published before!
About the Author
K. W. JETER is the international and New York Times bestselling author of science fiction novels including Farewell Horizontal, Death Arms and Madlands, horror/thrillers including The Night Man, Soul Eater and Dark Seeker, and media tie-ins including the Star Wars: Bounty Hunter Wars trilogy and the authorized Blade Runner book sequels The Edge of Human and Replicant Night. After living in both England and Spain, he currently resides in San Francisco, California.

Gareth Jefferson Jones became a writer after enjoying a successful career as an actor. For the last twenty years he has lived in Germany, where he has worked as a screenwriter, a documentary maker, and a story editor for TV. Death's Apprentice is his literary debut.
Praise For Death's Apprentice: A Grimm City Novel…
"With bold storytelling, one-of-a-kind characters, and a flair for both the rhythm of fairy tales and the atmosphere of noir fiction, this dark fantasy deserves a wide audience." —Library Journal (starred)
"A fantastically visceral story of good versus evil." —This Is Horror
"Completely unsanitized and totally terrifying!" —best-horror-movies.com
"A compelling dark fantasy...something extraordinary." —Burbank Library Blog
"An edge-of-your-seat thrill ride through a dark world borne of our deepest fears where demons and witches fly the skies, the dead stalk the earth, and a trio of unlikely champions battle the Devil for humanity's future. Deftly-plotted, intensely visceral, and written with a muscular style that transports the reader right into the thick of the action, this first installment in the Grimm City series had me at the first fight scene. The urgency was manifested so completely I couldn't stop reading, nor could I turn the pages fast enough. A horror-packed, cinematic tour-de-force through an apocalyptic world imagined in thrilling detail." —Jo Treggiari, author of Ashes, Ashes
"A dark tale of Death, the Devil, and destiny." —Jennifer Estep, New York Times bestselling author of the Elemental Assassin series
"A kaleidoscopic, neon masterpiece, K.W. Jeter's and Gareth Jefferson Jones's Death's Apprentice is a spellbinding work of modern dark fantasy, the first entry in a new series based upon the tales and writings of the Brothers Grimm. With a surgeon's eye for detail, as well as epic scope, Jeter and Jones have created a mesmerizing mash-up of classic folklore and post-punk horror-noir that pulses with sex, drugs, and rock and roll. Death's Apprentice manages to both entertain and resonate on the deepest levels of Jungian dream logic – the Grimms would be delighted! A major new series as well as an irresistible hero are born. Highly recommended!" —Jay Bonansinga, Bram Stoker Award Finalist and New York Times bestselling coauthor of The Walking Dead: Rise of the Governor