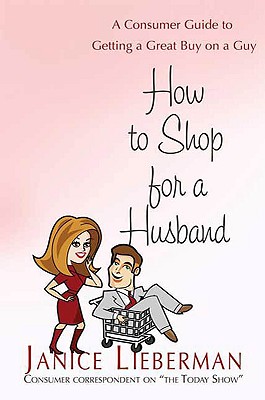 How to Shop for a Husband: A Consumer Guide to Getting a Great Buy on a Guy (Hardcover)
A Consumer Guide to Getting a Great Buy on a Guy
St. Martin's Press, 9780312549985, 224pp.
Publication Date: May 12, 2009
* Individual store prices may vary.
or
Not Currently Available for Direct Purchase
Description
Janice Lieberman brings her vast shopping expertise as well as her personal knowledge of the dating marketplace together to tell you how to shop for the most important "purchase" of your life—your spouse. How to Shop for a Husband uses smart shopping principles to formulate rules that will help women select a spouse and "close the deal." This savvy shopper's guide provides a checklist all women can use in their hunt for the ultimate bargain, and also highlights potential pitfalls.
About the Author
JANICE LIEBERMAN has been the featured consumer reporter on NBC's "Today" for ten years and was previously the consumer correspondent on "Good Morning America." Lieberman also anchored "Steals and Deals," which appeared nightly on CNBC. She is the author, with Jason Raff, of "Tricks of the Trade: A Consumer Survival Guide." She lives with her husband and two children in New Jersey.
Praise For How to Shop for a Husband: A Consumer Guide to Getting a Great Buy on a Guy…
"While far from romantic, this common sense dating guide from NBC's Today show consumer reporter offers some charming—if simple—advice for spotting good deals on the dating market. For example, research on marital success indicates that "shoppers" should seek someone as similar in social status and background as possible; Lieberman makes this her Mirror-Image Rule (i.e, "Be Sure to Use the Mirror in the Dressing Room"). A chapter on "Good User Interface" asserts that "the killer app when it comes to guys is good communication." Some may be turned off by the hyper-practical (some might say "traditional") tone: "Marriers are guys who like to be married. They need a woman who will coordinate their social lives… their homes and just generally provide support." Still, Lieberman provides enough hints and data to prove she's done her comparison shopping; a careful analysis of modern methods for mate-finding (online, group events, professional matchmakers, flying solo) is exceedingly helpful and demystifying; the shocker is that face-to-face speed dating is the best option for busy professionals interested in high-quality dating candidates. Though at times familiar, this rational dating primer makes a solid, sound and self-aware alternative to The Rules."--Publishers Weekly
Advertisement