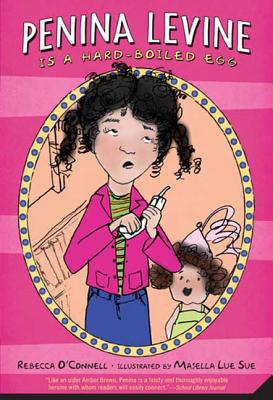 Penina Levine Is a Hard-boiled Egg (Paperback)
Square Fish, 9780312550264, 192pp.
Publication Date: March 3, 2009
Other Editions of This Title:
Hardcover (3/6/2007)
Prebound (3/3/2009)
* Individual store prices may vary.
Description
"She still hasn't gotten over that Easter Bunny letter," said Zozo.
"So what?" said Penina. "If my parents want me to go to Peekskill, what can Ms. Anderson do? Kidnap me?"
"No," said Zozo. "She can't kidnap you, but she can flunk you."
Penina Levine has a bossy best friend, a tattletale sister, crazy parents, and a big, fat zero on her school assignment to write a letter as the Easter Bunny. It was a stupid assignment, completely impossible, totally unfair. Penina's never going to do it—not ever—and it's no use telling her parents about it. They never listen to her anyway. But Penina's grandmother does. Grandma doesn't think Penina should do the assignment. It's a matter of principle. It's a matter of strength. It's a matter of five thousand years of history and a couple dozen hard-boiled eggs.
About the Author
Rebecca O'Connell is the author of THE BABY GOES BEEP and, as Rebecca Tova Ben-Zvi, of FOUR SIDES, EIGHT NIGHTS: A NEW SPIN ON HANUKKAH. She is a children's librarian with 14 years of story-hour experience. She lives in Pittsburgh, PA.

Majella Lue Sue, born and raised in Trinidad and Tobago, received a BFA in Illustration, with honors, from the Art Center of Design in Pasadena, in 2005. Penina Levine Is a Hard-boiled Egg is Ms. Lue Sue's first book. She now lives in Pasadena, California where she loves to spend time with her golden retriever, Scotch.
Praise For Penina Levine Is a Hard-boiled Egg…
"A thoughtful and often funny novel that should appeal to the world's many Peninas." —Booklist
"Well-crafted multiple themes are integrated into a captivating, realistic middle-grade novel where conflicts are addresses, if not resolved, in pragmatic and convincing scenarios." —Kirkus Reviews
"Like an older Amber Brown, Penina is a feisty and thoroughly enjoyable heroine with whom readers will easily connect. O'Connell's artful weaving of Jewish traditions and history throughout the novel make it all the richer, and the occasional illustrations complement the dynamic humor." —School Library Journal
"Careful explanations of Passover traditions ensure that gentile readers won't get left behind, and youngsters in general will sympathize with a kid who stands up for herself when she's wronged." —The Bulletin of the Center for Children's Books