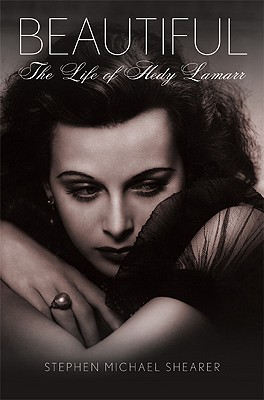 Beautiful: The Life of Hedy Lamarr (Hardcover)
The Life of Hedy Lamarr
Thomas Dunne Books, 9780312550981, 480pp.
Publication Date: September 28, 2010
* Individual store prices may vary.
or
Not Currently Available for Direct Purchase
Description
The Surprising Story of Hedy Lamarr, "The Most Beautiful Girl in the World"
As a teenage actress in 1920s Austria, performing on the stage and in film in light comedies and musicals, Hedy Kiesler, with her exotic beauty, was heralded across Europe by her mentor, Max Reinhardt. However, it was her nude scene, and surprising dramatic ability, in Ecstasy that made her a star. Ecstasy's notoriety followed her for the rest of her life. She married one of Austria's most successful and wealthy munitions barons, giving up her career for what seemed at first a fairy-tale existence. Instead, as war clouds loomed in the mid-1930s, Hedy discovered that she was trapped in a loveless marriage to a controlling, ruthless man who befriended Mussolini, sold armaments to Hitler, yet hid his own Jewish heritage to become an "honorary Aryan."
She fled her husband and escaped to Hollywood, where M-G-M changed her name to Hedy Lamarr and she became one of film's most glamorous stars. She worked with such renowned directors as King Vidor, Victor Fleming, and Cecil B. DeMille, and appeared opposite such respected actors as Clark Gable, Spencer Tracy, John Garfield, and James Stewart. But as her career waned, her personal problems and legal wranglings cast lingering shadows over her former image. It wasn't until decades later that the world was stunned to learn of her unexpected role as the inventor of a technology that has become an essential part of everything from military weaponry to cell phones—proof that Hedy Lamarr was far more than merely Delilah to Victor Mature's Samson. She demonstrated a creativity and an intelligence she had always possessed.
Stephen Michael Shearer's in-depth and meticulously researched biography, written with the cooperation of Hedy's children, intimate friends, and colleagues, separates the truths from the rumors, the facts from the fables, about Hedy Lamarr, to reveal the life and character of one of classic Hollywood's most beautiful and remarkable women.
About the Author
STEPHEN MICHAEL SHEARER is the author of "Patricia Neal: An Unquiet Life." He has written for the "Las Vegas Review-Journal "and is also a former model and actor, having appeared on stage, television, and in film. Shearer currently resides in Minnesota and New York City.
Praise For Beautiful: The Life of Hedy Lamarr…
"Providing probing and detailed coverage of her five marriages, children, various lawsuits, radio roles and shoplifting headlines, Shearer has combined extensive archival research with insightful interview quotes. The result is a fascinating biography that recreates Hollywood's Golden Age of Glamour."--Publishers Weekly
"Much more than a standard Hollywood biography."--Edge Magazine
"In Beautiful, Mr. Shearer writes with humor and has fun with some of the glorious nonsense of Lamarr's movies."--Jeanine Basinger, The Wall Street Journal
"Extensively researched and filled with such nuggets, this is the ultimate biography on the screen legend."--Indulge Magazine
Advertisement