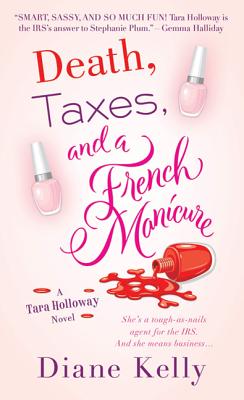 Death, Taxes, and a French Manicure: A Tara Holloway Novel (Mass Market Paperbound)
A Tara Holloway Novel
St. Martin's Press, 9780312551261, 368pp.
Publication Date: November 1, 2011
* Individual store prices may vary.
or
Not Currently Available for Direct Purchase
Description
"Tara Holloway has got your number. A special agent on the IRS's payroll, she's dead-set on making sure that money crimes don't pay "
Tax cheats, beware: The Treasury Department's Criminal Investigations Division has a new special agent on its payroll. A recovering tomboy with a head for numbers, Tara's fast becoming the Annie Oakley of the IRS kicking ass, taking social security numbers, and keeping the world safe for honest taxpayers. "Or else."

Tara's latest mission finds her in hot pursuit of ice-cream vendor Joseph "Joe Cool" Cullen. Along with frozen treats he's selling narcotics and failing to report his ill-gotten gains on his tax returns. "Over Tara's dead body." Then there's Michael Gryder, who appears to be operating a Ponzi scheme with banker Stan Shelton whose lake house is being landscaped by Brett Ellington who happens to be dating Tara. If following that money trail isn't tough enough, now Tara must face a new conundrum: Should she invest her trust in Brett or put him behind bars? New love always comes at a cost but justice? "Priceless.
About the Author
Diane Kelly is a tax attorney by day, writer by night. A recipient of the 2009 Romance Writers of America Golden Heart Award for Best Novel with Strong Romantic Elements, she has received more than two dozen RWA chapter awards. Diane's fiction, tax and humor pieces have appeared in True Love Magazine, Writer's Digest Yearbook, Romance Writers Report, Byline Magazine, and other publications. Death, Taxes, and a French Manicure is her first mystery novel, with more in the series to come.
Praise For Death, Taxes, and a French Manicure: A Tara Holloway Novel…
"Keep your eye on Diane Kelly—her writing is tight, smart and laugh-out-loud funny."—Kristan Higgins, New York Times and USA Today bestselling author
"A hilarious, sexy, heart-pounding ride, that will keep you on the edge of your seat. Tara Holloway is the IRS's answer to Stephanie Plum—smart, sassy, and so much fun. Kelly's debut has definitely earned her a spot on my keeper shelf!"—New York Times bestselling author Gemma Halliday 
"The subject of taxation usually makes people cry, but prepare to laugh your assets off with Diane Kelly's hilarious debut." —Jana DeLeon, author of the Ghost-in-Law series  
"Quirky, sexy, and downright fabulous. Zany characters you can't help but love, and a plot that will knock your socks off. This is the most fun I've had reading in forever!" —New York Times bestselling author Christie Craig
"With a quirky cast of characters, snappy dialogue, and a Bernie Madoff style pyramid scheme–hunting down tax cheats has never added up to so much fun!" —Robin Kaye, award-winning author of The Domestic Gods series   
"Kudos to debut author Diane Kelly, who brings a fresh, new voice and raucous humor to the market. I can't wait to read the next book in the Tara Holloway series!" —Angela Cavener, Indie Book Award Finalist and Author of Operation: Afterlife
"Tara Holloway is Gin Bombay's BFF, or would be if they knew each other. Kelly's novel is smart, sexy and funny enough to make little girls want to be IRS agents when they grow up!" —Leslie Langtry, author of the Bombay assassins mystery series 
"This totally terrific debut is better than a refund check from the IRS!" —Reader to Reader Reviews 
"Part romance, part thriller, and part comedic mystery, it's just the thing to help keep you warm on a chilly autumn night." —The Maine Suspect 
"I was so delighted to stumble across Death, Taxes and a French Manicure by Diane Kelly…" —CriminalElement.com
"Who knew the IRS was so sexy?" --The Alcalde
"With her quirky humour and incredibly witty aside jokes, Diane Kelly has created a real winner and a star for her debut book in her "Death and Taxes" series. Kelly's plot is filled with belligerent and bad ass characters and dicey situations that will keep you turning the pages to see how it all turns out."—Fresh Fiction
Advertisement