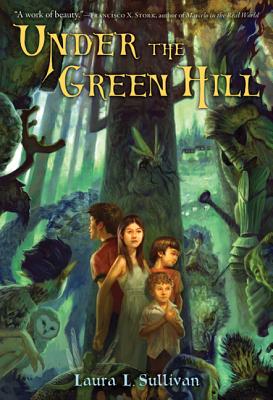 Under the Green Hill (Paperback)
Square Fish, 9780312551490, 308pp.
Publication Date: September 27, 2011
Description
Rowan, Meg, Priscilla, and their little brother, James, are off to the English countryside to stay with relatives at the Rookery. The children are looking forward to exploring the ancient mansion and perhaps discovering a hidden secret or two. Little do they know this is a seventh summer. Every seventh summer, a fairy war is fought on the Green Hill to the death with a human champion. And Rowan has been chosen as one of the champions. Meg is desperate to save her brother. But the Midsummer War is far more than a battle between mythic creatures: Everything that lives depends on it. How can Meg choose between family and the fate of the very land itself?
About the Author
LAURA L. SULLIVAN is a former newspaper editor, biologist, social worker, and deputy sheriff who writes because that's the easiest way to do everything in the world. She lives in the woods of Kentucky with her loved ones. Laura's next book, Guardian of the Green Hill, will be available from Henry Holt in October 2011.
Praise For Under the Green Hill…
"Sullivan draws heavily on her knowledge of Middle English folklore and creates a story rich with memorable characters and evocative language. The ending begs for a sequel in which readers can learn more about the history between the two opposing fairy courts and how the Morgan children fulfill their destinies." --School Library Journal
"With colorful characters, from Jenny Greenteeth to the dragonlike Wyrm, this engaging fantasy will attract readers intrigued by English folklore." --Booklist
"Like Edward Eager's Half-Magic, this debut contemporary fantasy pays homage to E. Nesbit, but it goes further, mirroring Nesbit's narrative quirks, syntax and even vocabulary." --Kirkus Reviews
"Magic, wonder, and danger pervade this tightly plotted, perfectly age-pitched fantasy debut." --BCCB
"Sullivan fashions an unforgettable landscape and suggests that the line between the real and fairy worlds remains highly permeable. She pays tribute to time-honored fairy traditions while also introducing questions of free will, trust and loyalty in a refreshingly original tale." --Shelf Awareness
Advertisement