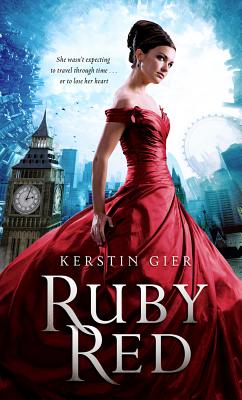 Ruby Red (The Ruby Red Trilogy #1)
Paperback

* Individual store prices may vary.
Other Editions of This Title:
Digital Audiobook (11/1/2011)
Description
Gwyneth Shepherd's sophisticated, beautiful cousin Charlotte has been prepared her entire life for traveling through time. But unexpectedly, it is Gwyneth who in the middle of class takes a sudden spin to a different era!

Gwyneth must now unearth the mystery of why her mother would lie about her birth date to ward off suspicion about her ability, brush up on her history, and work with Gideon—the time traveler from a similarly gifted family that passes the gene through its male line, and whose presence becomes, in time, less insufferable and more essential. Together, Gwyneth and Gideon journey through time to discover who, in the 18th century and in contemporary London, they can trust.
Kerstin Gier's Ruby Red is young adult novel full of fantasy and romance.
Praise For Ruby Red (The Ruby Red Trilogy #1)…
"Humorous, romantic and suspenseful, the plot is fast-paced and impossible to put down . . . . The final romantic cliffhanger will leave you thirsty for the next book in this 'jewel' of a series." —Justine magazine

"Sixteen-year-old Londoner Gwyneth Shepherd comes from a family of time travelers. The gene was supposed to have skipped Gwen, but sneaks up on her unexpectedly in the middle of class one day and hurls her way back to the 18th century, where she meets an insufferable-turns-lovable time-traveling boy named Gideon. " —TeenVogue.com

"Gier succeeds on her own terms, keeping the reader moving along, forward and backward in time, and ending with a revelation and a cliffhanger. Both will leave readers anticipating the publication of the next installment, 'Sapphire Blue.'" —The New York Times Book Review

"What makes this such a standout is the intriguingly drawn cast, stars and supporting players both, beginning with Gwen, whose key feature is her utter normality… Adventure, humor, and mystery all have satisfying roles here." —Starred, Booklist

"The characters in Kerstin Gier's stellar story come fully to life, and veteran translator Anthea Bell (who translated Cornelia Funke's Inkheart books) preserves the book's abundant humor . . . . There's something here for everyone." —Shelf Awareness

"Teen readers will be eager to find out what happens to Gwen and Gideon in their next adventures, to be revealed in the second book of the trilogy, Sapphire Blue, followed by Emerald Green." —BookPage

"Gier's romantic story is an excellent opportunity to explore fashions of the past, if nothing else, but it's also a page-turner that will have you wanting to learn German so you don't have to wait for the next translation to be published." —Channel One.com

"As she narrates this fast-paced puzzler, Gwen convincingly conveys the bewilderment, fear and excitement of a teen rooted in the present but catapulted from her school-girl routine into the past. Bell's deft translation captures an engaging heroine with a cell phone and a sense of humor, an emerging romance and a complex, unresolved time-travel mystery spanning four centuries." —Kirkus Reviews

"This first installment of a trilogy will soon find a new crop of fans in the United States. It's a fun, engaging read that will be an easy sell for teens wanting to time travel with a delightful narrator." —School Library Journal

"The first in a trilogy, Ruby Red offers romance, adventure, small details of various eras, and the complications that families can bring. It will mostly appeal to teenage girls who have a preference for reading romance." —VOYA

"…Gier's characters and plotting are first-rate, creating an adventure that should leave readers eager for the rest of the trilogy." —Publishers Weekly

"A smart, entertaining read . . . Gwen, an outsider in her own family, is the perfect spunky, skeptical heroine." —Bulletin of the Center for Children's Books

"An extremely appetizing mix of mystery thriller, science fiction and romantic adventure that readers will most likely devour in one sitting." —Augsburger Allgemeine Zeitung

"Thrilling and witty." —Radio Bremen

"Guaranteed to be addictive." —Badische Neueste Nachrichten

"As soon as you have managed to open this wonderful book, you won't want to close it anymore! Superbly romantic, witty and--thank God--only the first part of this emotional time travel trilogy." —Daisuki

"A sophisticated and adventurous fantasy story with a sense of humor." —Nordbayerischer Kurier

"Bestselling author Kerstin Gier has written a romantic and funny story that will captivate readers until the very end. Truly mesmerizing." —Kölnische Rundschau

"Exciting fantasy with lots of wordplay and a pinch of romance. Now the impatient waiting for Volume Two will start." —Westfälische Nachrichten

"The very finest reading stuff." —Buchmarkt
Square Fish, 9780312551513, 352pp.
Publication Date: May 22, 2012
About the Author
Kerstin Gier is the bestselling author of the Ruby Red trilogy, as well as several popular novels for adults. She lives in Germany.