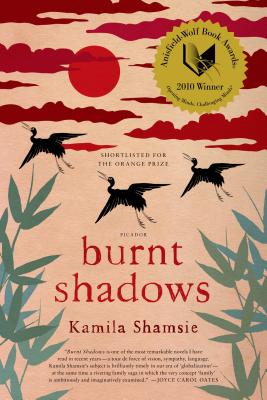 Burnt Shadows (Paperback)
Picador USA, 9780312551872, 370pp.
Publication Date: April 27, 2009
Winter 2011 Reading Group List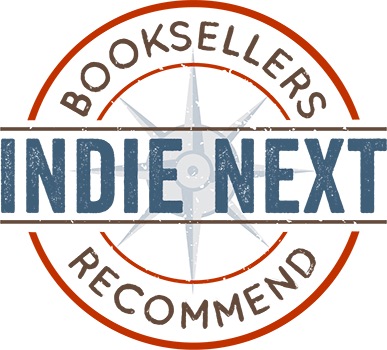 "This is an incredible, epic novel straddling the time of the bomb dropping on Nagasaki in 1945 to New York of 2004. Hiroko, forever marked by the image of cranes burned into her back from the bomb blast, loses her first love and then finds another. She becomes a Pakistani, raises a beloved son, learns and loves many languages, and tries to make sense of the clash of cultures and loyalties that face her and her beloveds at every turn. Shamsie expertly depicts people acting out of their deepest love and conviction and finding themselves facing morally complex choices, the results of which are both magnificent and devastating. This novel is perfect!"
— Sheryl Cotleur, Book Passage, Corte Madera, CA
View the List
Description
Winner of the Anisfield-Wolf Book Award
An Orange Prize Finalist
Nagasaki, August 9, 1945. Hiroko Tanaka watches her lover from the veranda as he leaves. Sunlight streams across Urakami Valley, and then the world goes white.
In the devastating aftermath of the atomic bomb, Hiroko leaves Japan in search of new beginnings. From Delhi, amid India's cry for independence from British colonial rule, to New York City in the immediate wake of 9/11, to the novel's astonishing climax in Afghanistan, a violent history casts its shadow the entire world over. Sweeping in its scope and mesmerizing in its evocation of time and place, this is a tale of love and war, of three generations, and three world-changing historic events. Burnt Shadows is a story for our time by "a writer of immense ambition and strength. . . . This is an absorbing novel that commands in the reader a powerful emotional and intellectual response" (Salman Rushdie).
About the Author
KAMILA SHAMSIE was born in 1973 in Karachi. She has studied and taught in the USA. Two of her previous novels, Kartography and Broken Verses, have won awards from Pakistan's Academy of Letters. She writes for The Guardian (UK) and frequently broadcasts on the BBC.
Praise For Burnt Shadows…
"Burnt Shadows is one of the most remarkable novels I have read in recent years -- a tour de force of vision, sympathy, language. Kamila Shamsie's subject is brilliantly timely in our era or 'globalization'--at the same time a riveting family saga in which the very concept 'family' is ambitiously and imaginatively examined."--Joyce Carol Oates

"Completely authentic, complex, and breath-stopping."--Emma Thompson

"The most ambitious novel yet by this talented writer. In Burnt Shadows, Kamila Samsie casts her imagination remarkably far and wide, through time and across continents."--Mohsin Hamid

"Kamila Shamsie is a writer of immense ambition and strength. She understands a great deal about the ways in which the world's many tragedies and histories shape one another, and about how human beings can try to avoid being crushed by their fate and can discover their humanity, even in the fiercest combat zones of the age. Burnt Shadows is an absorbing novel that commands, in the reader, a powerful emotional and intellectual response."--Salman Rushdie

"Ambitious . . . Shamsie's deft touch . . . delicately builds the momentums of everyday life against the insidiously political situation of the time. . . . A tribute to Shamsie's skills." --Chicago Sun-Times

"Burnt Shadows is audacious in its ambition, epic in its scope. A startling expansion of the author's intentions, imagination and craftsmanship. One can only admire the huge advances she has made, and helped us to make, in understanding the new global tensions."--Anita Desai
"One of the finest writers at work anywhere, period . . . A great, absorbing novel, one that will be with us a long time."--Rick Simonson, Elliot Bay Book Company
"Kamila Shamsie opens a vista onto the century we have just lived through--pointing out its terror and its solace. She is so extraordinary a writer that she also offers hints about the century we are living through--the dark corners that contain challenges, as well as the paths that lead to beauty's lair."--Nadeem Aslam, author of Maps for Lost Lovers
Early in the novel, Hiroko observes that during the World War II everything has been "distilled or distorted into its most functional form," including a vegetable patch where once Azaleas grew, and she asks, "What prompted this falling-off of love?" Can you find other places in the novel where this idea is expressed? Is there a similarity between the garden and a suicide bomber?
How does Hiroko resist being simply Hibakusha, a victim of the bomb, and in what ways is she powerless to change this perception of her? Consider also how it affects her son, Raza. Is it impossible to escape certain legacies?
Discuss the different reasons that Konrad, Elizabeth, Sajjad and Harry leave their home in India, and why Hiroko leaves Japan, and then Pakistan. What does it mean to have a home, and to be displaced? How is it different when you don't have a choice to stay? Ultimately, do the characters ever have a country to call their own?
Hiroko is immovable in her opinion about the atomic bomb. What does it mean to have a direct and highly personal connection to an earth-changing event like the bombing of Nakasaki, or 9/11? Is it possible for anyone so directly affected by the violence of these events to regard them with historic perspective? How are Kim and Hiroko different from one another in this regard? Consider their conversation about Nagasaki on pgs 294 to 295.
The characters in Burnt Shadows sometimes find that their ideological beliefs can be vanquished by basic human feelings of love and hate. And sometimes the reverse happens as well. Why are individuals so often in conflict with their ideals, and how does the novel illustrate this conflict?
What does Sajjad mean when he says on pg 52 that he wants a "modern wife"? How do the women in Burnt Shadows each express their independence? And in what ways are they still captive to tradition?
Why does Elizabeth at first resist Sajjad and Hiroko's affection for one another? Is she just trying to be practical? What is the nature of her resentment and concern?
Hiroko, Sajjad, and Raza each have a love of languages. What does it mean to learn another language, and why are languages (and their translation back and forth) important to these characters?
Discuss the reasons that Abdullah joins a mujahideen training camp. Why is it tempting to Raza as well? What social pressures and conditions do you think could inspire you to take up arms in a similar fashion, or to become radicalized?
Shortly after Sajjad tells Hiroko that "everything about you is beautiful," Elizabeth Burton, reflecting upon the Himalayas, thinks "what a pity beauty could be so meaningless." What does this novel, which begins with the scarring of a woman's back, have to say about beauty and truth?
Who, if anyone, is to blame for the death of Sajjad?
Is it irresponsible for Harry to send Raza to Afghanistan, given that he had promised Hiroko to keep him safe? Discuss his reasons for sending him, and Raza's reasons for going.
Steve is highly suspicious of Raza's past, in particular his early brush with the mujahideen. While Raza is, in truth, largely motivated by personal loyalties, is Steve nonetheless right to be suspicious of him? Is Steve's paranoia a widespread phenomenon in the United States? Globally?
The forces of oppression and liberation course through this novel – from the Raj, to the partition of India, to fundamentalist Islam's control of women in Pakistan, to the Patriot Act. Is Burnt Shadows asking what it means to liberate one's self, to be free both personally and politically? Is there a difference? Consider, as well, Elizabeth's flight from her husband, and her life in New York.
Discuss Kim Burton's actions at the Canadian border. Would you have done the same thing? How does this act illustrate the larger themes of the novel?
Advertisement