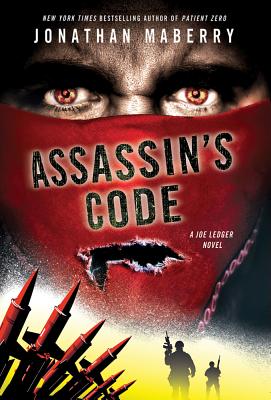 Assassin's Code (Paperback)
A Joe Ledger Novel
St. Martin's Griffin, 9780312552206, 432pp.
Publication Date: April 10, 2012
* Individual store prices may vary.
Description
In ASSASSIN'S CODE, the fourth book in New York Times bestselling author Jonathan Maberry's Joe Ledger series, Joe Ledger and the DMS go on a relentless chase to stop an ancient order of killers from plunging the entire world into Holy War.
When Joe Ledger and Echo Team rescue a group of American college kids held hostage in Iran, the Iranian government then asks them to help find six nuclear bombs planted in the Mideast oil fields. These stolen WMDs will lead Joe and Echo Team into hidden vaults of forbidden knowledge, mass-murder, betrayal, and a brotherhood of genetically-engineered killers with a thirst for blood. Accompanied by the beautiful assassin called Violin, Joe follows a series of clues to find the Book of Shadows, which contains a horrifying truth that threatens to shatter his entire worldview. They say the truth will set you free…not this time. The secrets of the Assassin's Code will set the world ablaze.
About the Author
Jonathan Maberry is a New York Times bestselling author and 5-time Bram Stoker Award-winner. He writes in multiple genres including suspense, thriller, horror, science fiction, fantasy, action, and steampunk, for adults, teens and middle grade. His works include the Joe Ledger thrillers, Rot & Ruin, Mars One, and Captain America, which is in development for a feature film. He writes comics for Marvel, Dark Horse and IDW and is the editor of such high-profile anthologies as The X-Files, V-Wars, Out of Tune, Baker Street Irregular, Nights of the Living Dead, and Scary Out There. He lives in Del Mar, California.
Praise For Assassin's Code: A Joe Ledger Novel…
"Maberry delivers plenty of action." —Publishers Weekly
"A fast-paced, brilliantly written novel. The hottest thriller of the New Year! In The King of Plagues, Jonathan Maberry reigns supreme." —Brad Thor, #1 New York Times bestselling author of The Athena Project, on The King of Plagues
"Joe Ledger and the DMS are back in their most brutal tale yet as they face off against a diabolical organization who is always one step ahead. As the sinister plot is exposed and the body count rises, THE KING OF PLAGUES is impossible to put down. Be prepared to lose some sleep." —Jeremy Robinson, author of THRESHOLD and INSTINCT, on The King of Plagues
"While Joe has announced his retirement, eager readers can look forward to one more volume in this humorous, over-the-top cross-genre trilogy." —Publishers Weekly on The Dragon Factory
"Like a video game on steroids mixed with The Island of Dr. Moreau." —Booklist on The Dragon Factory
"[A] memorable book." —Peter Straub, New York Times Bestselling author on Patient Zero
"Brilliant… puts the terror back in terrorist." —James Rollins , New York Times bestselling author of The Judas Strain, on Patient Zero