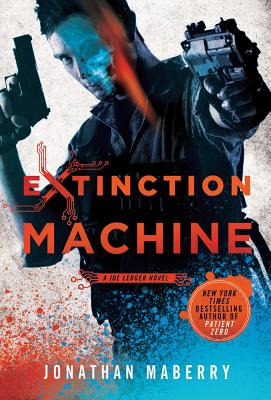 Extinction Machine (Paperback)
A Joe Ledger Novel
St. Martin's Griffin, 9780312552213, 448pp.
Publication Date: March 26, 2013
* Individual store prices may vary.
Description
In Extinction Machine, the fifth Joe Ledger book by Jonathan Maberry, the DMS must go up against someone—or something—in search of new technology that could bring about world war
The President of the United States vanishes from the White House.
A top-secret prototype stealth fighter is destroyed during a test flight. Witnesses on the ground say that it was shot down by a craft that immediately vanished at impossible speeds.
All over the world reports of UFOs are increasing at an alarming rate.
And in a remote fossil dig in China dinosaur hunters have found something that is definitely not of this earth. There are rumors of alien-human hybrids living among us.
Joe Ledger and the Department of Military Sciences rush headlong into the heat of the world's strangest and deadliest arms race, because the global race to recover and retro-engineer alien technologies has just hit a snag. Someone—or something--wants that technology back.
About the Author
JONATHAN MABERRY is a New York Times bestselling and multiple Bram Stoker Award-winning author of Deep Silence, Kill Switch, Predator One, Code Zero, Fall of Night, Patient Zero, the Pine Deep Trilogy, The Wolfman, Zombie CSU, and They Bite, among others. His V-Wars series has been adapted by Netflix airing later this year, and his work for Marvel Comics includes The Punisher, Wolverine, DoomWar, Marvel Zombie Return and Black Panther. His Joe Ledger series has been optioned for television.
Praise For Extinction Machine: A Joe Ledger Novel…
"The Ledger novels are exciting sf thrillers that just happen to involve stuff that's a little out there (and Joe himself is a realistically portrayed soldier who, from time to time, has a hard time dealing with the weirdnesses that surround him). Readers familiar with the series will need no prodding to check this new one out, and newcomers, immediately upon finishing the book, will want to hunt down the earlier installments." —Booklist, starred review
"Maberry delivers plenty of action and intrigue." —Publishers Weekly on Assassin's Code
"A fast-paced, brilliantly written novel. The hottest thriller of the New Year! In The King of Plagues, Jonathan Maberry reigns supreme." —Brad Thor, #1 New York Times bestselling author of The Athena Project, on The King of Plagues
"While Joe has announced his retirement, eager readers can look forward to one more volume in this humorous, over-the-top cross-genre trilogy." —Publishers Weekly on The Dragon Factory
"Like a video game on steroids mixed with The Island of Dr. Moreau." —Booklist on The Dragon Factory