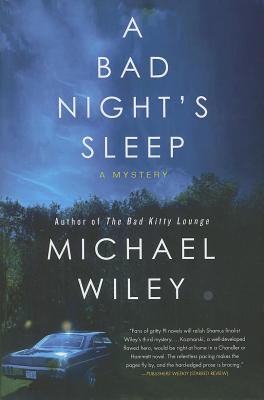 A Bad Night's Sleep (Hardcover)
A Mystery
Minotaur Books, 9780312552244, 272pp.
Publication Date: June 21, 2011
Other Editions of This Title:
Compact Disc (6/21/2011)
MP3 CD (6/21/2011)
Pre-Recorded Audio Player (8/1/2011)
Compact Disc (6/21/2011)
* Individual store prices may vary.
Description
Winner of the Shamus Award for Best Novel
Working late-night surveillance at a luxury condominium development, Chicago private investigator Joe Kozmarski encounters a burglary crew. Two of the crew members show up in a police cruiser dressed in uniform. In the chaos that follows, Kozmarski shoots and kills one of the thieves, who, like the rest of the crew, is one of Chicago's Finest. And just like that Kozmarski finds he's in for many a bad night's sleep.
Kozmarski joins the burglary crew, working as an inside agent for his old friend Lieutenant Bill Gubman. Facing dangerous suspicions from both the criminal gang and the uncorrupted ranks of the police department, uncertain about who wishes to help him stay alive and who wishes to kill him, Kozmarski takes his wildest ride yet. A Bad Night's Sleep pushes full throttle through the streets of Chicago to a stunning conclusion.
About the Author
Michael Wiley is a Shamus Award winner. He lives with his family in northeast Florida. This is his third novel.
Praise For A Bad Night's Sleep: A Mystery…
"Jacksonville author Michael Wiley mixes two mainstays of the hard boiled novel — the cynical hero and a gritty plot — with an invigorating plot in his latest novel....A Bad Night's Sleep briskly moves through diverse Chicago neighborhoods that are far from the familiar Michigan Avenue."--Oline H. Cogdill, Sun Sentinel
"Fans of gritty PI novels will relish Shamus-finalist Wiley's third mystery featuring Chicago detective Joe Kozmarski. Kozmarski, a well-developed flawed hero, would be right at home in a Chandler or Hammett novel. The relentless pacing makes the pages fly by, and the hard-edged prose is bracing."— Publishers Weekly (starred revew)
"Fast, furious and fun. Readers who like them hard-boiled will love this 22-minute egg."— Kirkus Reviews
"In Michael Wiley's dark-souled detective, his cynical cops, his convincing story, we get a gripping classic PI novel, with this enormous bonus: this guy can WRITE. Clean, sharp, breathtaking prose."—S.J. Rozan, Edgar Award-winning author of
On the Line
 "
A Bad Night's Sleep
is a terrific read that will indeed cost readers some sleep. Michael Wiley pulls you into the action on page one and doesn't let up until the last satisfying chapter."--Alafair Burke, author of
Long Gone
 "This is top-notch P.I. reading. Wiley knows how to keep the fires stoked."
—New York Times
bestselling author John Lutz "A slick and suspenseful tale of corruption and redemption from a terrific PI writer at the top of his game.
A Bad Night's Sleep
is a great night's read."--Kelli Stanley, author of
City of Dragons
Calling a thriller subtle seems an odd way to praise it, but hold on. Wiley constructs his tale atop one of the familiar foundations of the classic hard-boiled PI novel: the hero's history of both staggering failure--he lost his cop job by driving drunk into a newsstand--and hopelessness with the ladies. He speaks of one woman as "smarter and quicker" than he is, and that says it. The requisite gunfights and chases are here, too. But there's an underlying meditation, there if the reader wants it, on identity and the need for endless curiosity about it. Chicago PI Joe Kozmarski announces the theme when he confesses that his failure to identify a treacherous informant got his partner shot. Then Joe nails a couple of bent cops, killing one of them but learning he's made an awful--though maybe unavoidable--mistake. To put things right, he infiltrates the ring of bad apples, moving into a world where shifting identities blur like blades of a fan. He triumphs but not before the wrong people die.
Jacksonville author Michael Wiley mixes two mainstays of the hard boiled novel -- the cynical hero and a gritty plot -- with an invigorating plot in his latest novel. In Wiley's hands, the ex-alcoholic, former cop-turned-private detective seems like a fresh idea. That's because Wiley refuses to allow any predictable plot twists to mar A Bad Night's Sleep and makes sure his Chicago investigator Joe Kozmarski barely has time to take a deep breath. Joe is hired to do the late-night surveillance at a luxury condo development that has been overrun by thieves making off with tools, appliances and construction materials. But these thieves aren't what Joe expected. While he watches, the burglary crew arrives -- in a police cruiser. Two of the thieves are even in uniform. During a chaotic shootout, Joe kills a cop who is part of the burglar's team. Although the man he killed was moonlighting as a thief, Joe is still branded a cop killer, and the police are more than willing to blame him for the sh
-Oline H. Cogdill
or
Not Currently Available for Direct Purchase