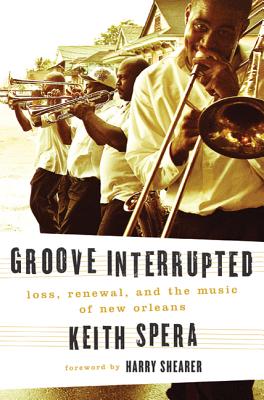 Groove Interrupted: Loss, Renewal, and the Music of New Orleans (Hardcover)
Loss, Renewal, and the Music of New Orleans
St. Martin's Press, 9780312552251, 258pp.
Publication Date: August 2, 2011
Description
The recent history of New Orleans is fraught with tragedy and triumph. Both are reflected in the city's vibrant, idiosyncratic music community. In Keith Spera's intimately reported "Groove Interrupted," Aaron Neville returns to New Orleans for the first time after Hurricane Katrina to bury his wife. Fats Domino improbably rambles around Manhattan to promote a post-Katrina tribute CD. Alex Chilton lives anonymously in a battered cottage in the Treme neighborhood. Platinum-selling rapper Mystikal rekindles his career after six years in prison. Jazz trumpeter Terence Blanchard struggles to translate Katrina into music. The spotlight also shines on Allen Toussaint, Pete Fountain, Gatemouth Brown, the Rebirth Brass Band, Phil Anselmo, Juvenile, Jeremy Davenport and the 2006 New Orleans Jazz & Heritage Festival. With heartache, hope, humor and resolve, each of these contemporary narratives stands on its own. Together, they convey that the funky, syncopated spirit of New Orleans music is unbreakable, in spite of Katrina's interruption.
About the Author
KEITH SPERA writes about music for The Times-Picayune in New Orleans. In 2006, he was a member of the newspaper's Pulitzer Prize-winning Hurricane Katrina coverage team. He has also contributed to Rolling Stone, Vibe, Blender, LA Weekly, Garden & Gun and numerous documentaries. He lives in his native New Orleans with his wife and two young children.
Praise For Groove Interrupted: Loss, Renewal, and the Music of New Orleans…
"In Groove Interrupted, Keith Spera captures both the elation and the heartbreak of post-Katrina New Orleans through the stories of some of the city's best musicians. Spera knows New Orleans and its music inside-out, and he lived through the disaster and saw it all for himself. Anybody who loves the Crescent City and its music will experience shocks of recognition, humor, sadness, and intense beauty throughout. This is a terrific book."-- Tom Piazza, "author of City Of Refuge and Why New Orleans Matters"
"With Hurricane Katrina and the Federal Flood that followed, New Orleans suffered a near-death experience.  Eighty percent of the city flooded.  Musicians suffered along with everyone else, and in the weeks and months after the storm it was unclear if they, and the music would ever return to the Crescent City.   Keith Spera's invaluable book brilliantly chronicles the experiences of some of New Orleans',  and America's,  most important musicians -- Fats Domino, Aaron Neville, Allen Toussaint, among others --  before, during and after America's worst man-made disaster."-- Eric Overmyer, Executive Producer Treme (HBO)
Coverage from NPR
Advertisement