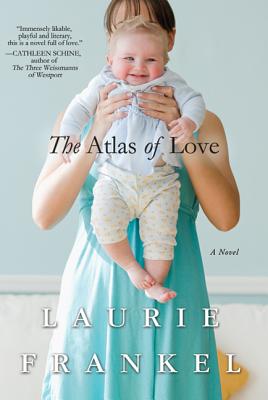 The Atlas of Love
Paperback

* Individual store prices may vary.
Other Editions of This Title:
Paperback (1/24/2017)
Hardcover (8/17/2010)
MP3 CD (10/11/2016)
Description
When Jill becomes both pregnant and single at the end of one spring semester, she and her two closest friends plunge into an experiment in tri-parenting, tri-schooling, and trihabitating as grad students in Seattle. Naturally, everything goes wrong, but in ways no one sees coming. Janey Duncan narrates the adventure of this modern family with hilarity and wisdom and shows how three lives are forever changed by (un)cooperative parenting, literature, and a tiny baby named Atlas who upends and uplifts their entire world. In this sparkling and wise debut novel, Frankel's unforgettable heroines prove that home is simply where the love is.
Praise For The Atlas of Love…
"Frankel's debut is a wonderful literary treat that offers a fresh twist on the modern family, one that relies on the bonds of women." --Library Journal (starred)
"This beautifully written debut novel offers something for everyone—humor, richly drawn characters and a tender exploration of love, friendship and food."--
LA Times Magazine
 "Strikingly pure of heart, voice and message, The Atlas of Love tells the story of a life lived on the treadmill of academia. It is likely to be a favorite of your bookseller, because it's a life that will resonate—a lot of hard work, little traditional payoff, yet, somehow, all worthwhile. Therein lies the brilliance of this book. Frankel puts the reader into that frame of being, where it becomes easy to understand how a friend would be willing to give so much to help sustain another. Though the payoff is hard-earned and unusual, it's also extraordinary. Frankel's prose flows easily, heavily laced with candor, wit, and emotion, in a way that brings to mind a modern Jane Austen of the Pacific Northwest."
 — Pacific Northwest Booksellers Association Awards Committee "Laurie Frankel displays a great ear for dialogue and a witty turn of phrase in quick characterizations."--
The Seattle Times
  "...a feel-good novel..and a celebration of modern family life in the myriad forms it can take."--
Booklist
 "Don't miss Laurie Frankel's
The
Atlas of Love
; this story of women's friendships and redefining "family" flows with lovely writing."--Nancy Pearl, author of
Book Lust: Recommended Reading for Every Mood, Moment, and Reason
"It's been a long time since I've been as charmed by a book as I was by this beautifully written, highly literate story of friendship, parenthood, and every other kind of love you can imagine. I was captivated by Janey, a narrator whose wit and generous spirit caused me to forget that she wasn't a flesh and blood person—and to wish that she were." --Marisa de los Santos, author of Love Walked In and Belong to Me
"Packed full of hilarious and insightful observations on life, love, and literature, 
The
Atlas of Love
deftly explores the boundaries of friendship and family, and the true meaning of motherhood."--J. Courtney Sullivan, author of
Commencement
"Immensely likable, playful and literary, this is a novel full of love." --Cathleen Schine, author of The Three Weissmanns of Westport
"
The Atlas of Love
is an engagingly funny novel with a memorable premise—three women graduate students from very different backgrounds team up to raise a child—that deepens into a moving and challenging meditation on the power and the limits of female friendship. Laurie Frankel writes with a light touch and a keen eye for detail, blending academic comedy and domestic drama with unusual skill."--Tom Perrotta, author of
Little Children
and
The Abstinence Teacher
"Once in a great while, a book is so beautifully written that when you close it, all you can do is sit quietly and hold it to your chest.  Laurie Frankel's The Atlas of Love is that book."--Sandra Kring, author of The Book of Bright Ideas and Thank You For All Things
Griffin, 9780312552701, 324pp.
Publication Date: November 8, 2011
About the Author
Laurie Frankel lives in Seattle and teaches in the English Department at the University of Puget Sound. The Atlas of Love is her first novel.
Which of the three main characters do you identify with most? Who do you identify with least? Do these three seem too different to be such close friends? Do you have friends with whom you don't have much in common, but you love them to death anyway? What holds friendships like these together?
Janey talks a lot about family versus friendship. What other kinds of families are there in this book besides Janey's very traditional one with her parents and her grandmother? Which of the relationships in this book feel like family and which like friendship? What's the difference between a group of friends and a group of friends who become family?
When Dan finds out Jill is pregnant, he argues that he should have the right to choose an abortion, that the decision to have the baby or not shouldn't be Jill's alone just because she's the woman. Are you sympathetic to his argument? Do you think he's right here?
What does Atlas lose and what does he gain from his non-traditional upbringing?
Janey keeps comparing life to literature and literature to life. How do life and literature overlap in this book? And how do life and literature or books overlap in your life?
Janey forgives Jill at the end of the book. Do you? What has Jill done that seems unforgivable? Why might she have done it? To what extent are her actions understandable and her fears well founded?
All three of the main characters seem more or less paired up by the end of the novel. Which of these relationships seem like they'll last and which seem like they might be headed for breakups? Do you like the guys?
What has Janey learned from her grandmother by the end of the book? What are the most important lessons you've learned from loved ones you've lost?
Janey argues that the wedding at the end is really for the three of them – herself, Jill, and Katie. For better and for worse. In what ways is their relationship like a marriage?
Where do you see these characters in five years? Janey? Katie? Jill? Atlas?
or
Not Currently Available for Direct Purchase