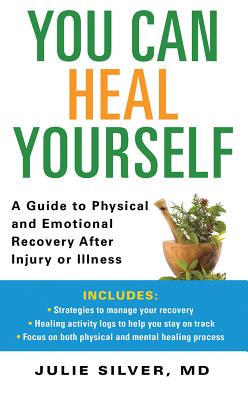 You Can Heal Yourself (Mass Market Paperbound)
A Guide to Physical and Emotional Recovery After Injury or Illness
St. Martin's Press, 9780312553302, 272pp.
Publication Date: January 31, 2012
Other Editions of This Title:
Paperback (1/31/2012)
* Individual store prices may vary.
Description
You Can Heal Yourself
Julie K. Silver, MD
"What can I do to help my own recovery?"
"How can I heal faster, better and stronger?"
"What can I do to supplement my doctor's treatment?"
"How can I keep my spirits up during my recovery""?"
"Can I reduce pain and stress using mind-body-medicine""?"
Learn the most effective, up-to-date methods for taking charge of your recovery physically "and" emotionally with YOU CAN HEAL YOURSELF
This unique self-care guide includes:
Self-assessments and strategy plans to help you evaluate your condition and manage your recovery
Step-by-step guidelines and activity logs for pacing yourself while healing and staying on track
Healing from the inside-out How to focus your mental energy to help relieve pain
Healing from the outside-in How diet, exercise, and sleep can promote better overall health
Signs and symptoms charts you can use to prevent physical and emotional setbacks and other risks so you can heal yourself and feel your best
Getting the facts about your health and health care has never been easier.
About the Author
JULIE SILVER, MD holds a Bachelor of Science degree from UC, Davis, and an MD from Georgetown Medical School. She did her residency in Physical Medicine and Rehabilitation at National Rehab Hospital in Washington, DC. Dr. Silver received the Ten Outstanding Young Leaders award from the Boston Junior Chamber of Commerce in 2003, and went on to join the Harvard affiliated Dana-Farber Cancer Institute.
Praise For You Can Heal Yourself: A Guide to Physical and Emotional Recovery After Injury or Illness…
"Talk about the ultimate expert. The author of this guide to healing after injury or illness is a Harvard doctor who specializes in rehabilitative medicine and a cancer survivor… Silver is chatty and upbeat, peppering her text with fun quotes.And she ends the empowering book by repeating a line from Winston Churchill, Never, never, never give up." – Booklist
"Kathleen sat in a cold metal chair in an ugly and unfriendly waiting room. The news eventually came to her—"you have breast cancer." She then endured the same irony as many women before her. She felt fine but knew there was something terrible going on in her body. After the surgery and chemotherapy, she felt mutilated and not fine. Her oncologist told her to get on with her life. At that time, Kathleen entered "the Healing Zone," a place where many people get stuck and are left on their own to fend for themselves. Kathleen is the middle name of Dr Julie Silver, Assistant Professor of Physical Medicine and rehabilitation at Harvard Medical School. Her own experiences in this book provide an encouraging guide to anyone who has survived a serious illness or injury. The theme of the book is that we human beings are very resilient once we set our minds to something, and that includes healing… Dr Silver's very readable book includes graphs and charts to help people focus on meeting the goal of the best healing possible. This encouraging book is not about just being sick or injured but about living. I encourage medical writers not only to read the book but to secure a copy for themselves and their friends. The strategies presented here can help all of us reach the best possible health to live life to the fullest." – ON THE BOOKSHELF, Evelyn B. Kelly, Ph.D.

or
Not Currently Available for Direct Purchase