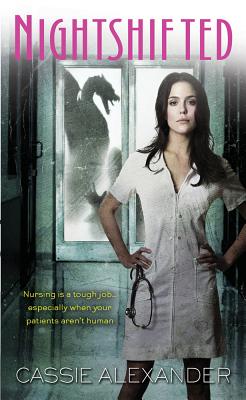 Nightshifted (An Edie Spence Novel #1) (Mass Market)
St. Martin's Paperbacks, 9780312553395, 352pp.
Publication Date: May 22, 2012
Other Editions of This Title:
Pre-Recorded Audio Player (7/1/2012)
MP3 CD (5/22/2012)
Compact Disc (5/22/2012)
Compact Disc (5/22/2012)
* Individual store prices may vary.
Description
From debut author Cassie Alexander comes a spectacular new urban fantasy series where working the nightshift can be a real nightmare. Nothing compares to being Nightshifted.

Nursing school prepared Edie Spence for a lot of things. Burn victims? No problem. Severed limbs? Piece of cake. Vampires? No way in hell. But as the newest nurse on Y4, the secret ward hidden in the bowels of County Hospital, Edie has her hands full with every paranormal patient you can imagine-from vamps and were-things to zombies and beyond...

Edie's just trying to learn the ropes so she can get through her latest shift unscathed. But when a vampire servant turns to dust under her watch, all hell breaks loose. Now she's haunted by the man's dying words-Save Anna-and before she knows it, she's on a mission to rescue some poor girl from the undead. Which involves crashing a vampire den, falling for a zombie, and fighting for her soul. Grey's Anatomy was never like this...

"Cassie Alexander's first book about Nurse Edie Spence is dark and energetic. You'll really enjoy it; I'm looking forward to reading the others in the series."-Charlaine Harris, New York Times bestselling author of The Southern Vampire Mysteries
About the Author
In addition to being a writer, Cassie Alexander is an active registered nurse in California.  Nightshifted is her debut novel. 
Praise For Nightshifted (An Edie Spence Novel #1)…
"Dark and clever full moon insanity that will get into your blood, crawl under your skin and haunt your dreams." —Sherrilyn Kenyon, #1 New York Times bestselling author of the Dark Hunter series

"The best debut I've read all year. Nightshifted is simply amazing!" —Kat Richardson, bestselling author of the Greywalker series

"Nightshifted's main character, nurse Edie Spence, has a distinctive, appealing, and no-nonsense style that you won't quickly forget. Add to that a paranormal population that needs medical care for some very odd reasons, and you have a winner of a debut novel." —Kate Elliott, author of the Cold Magic series

"Fresh, exciting, dark, and sexy, Nightshifted is excellent urban fantasy that grabs you by the throat and pulls you along for a wild ride. Cassie Alexander is an author to watch!" —Diana Rowland, author of Mark of The Demon

"Medical drama and vampire cold wars intersect in this solid urban fantasy debut. Alexander's zombies are particularly well designed, and the hospital environment adds an intriguing additional dimension." —Publishers Weekly

"I loved this book. What a breath of fresh air! It's filled with fascinating characters, including an enigmatic zombie firefighter, weres, shapeshifters, and of course, vampires. A memorable scene with a STD afflicted dragon (yup) had me on the edge of my seat, the budding romance with Ti (zombie firefighter!) is sweet and tender, and I just plain loved hanging out with Edie. Nightshifted is a very strong start to what promises to be a wonderful new series!" —My Bookish Ways

"Edie is a fun character with heart and charisma, making it easy to fall for her and want to see her succeed in all of her adventures, whether they be dealing with paranormal patients, evil vampires, or potential lovers. If you like your urban fantasy to have a dose of romance, then Nightshifted is for you. Highly recommended." —The Debut Review

"I really enjoyed the new type of monster mythologies introduced in NIGHTSHIFTED. I especially liked the idea that you need a certain amount of blood exposure before becoming a full fledged vampire. I can't wait to read more about the Y4 wing of County Hospital's residents and this strange new world when the next book comes out." —All Things Urban Fantasy

"Alexander's first novel launches a new series that should appeal to fans of medical thrillers as well as urban fantasy." —Library Journal

"There's so much paranormal stuff out there that I often find myself longing for some true urban fantasy. Nightshifted is the one I was starving for. It's gritty and dark, its heroine jaded and tough, and both of them are studded with moments of humor and human frailty." —Angieville.com

"Edie Spence has a real talent for getting into trouble and somehow getting out of it. But she's loyal and tough and determined, and these are all characteristics you want in an urban fantasy hero. We can all look forward to what happens next." —New York Times bestselling author Charlaine Harris
or
Not Currently Available for Direct Purchase