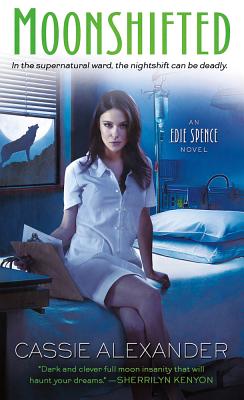 Moonshifted (Mass Market Paperbound)
St. Martin's Press, 9780312553401, 352pp.
Publication Date: November 27, 2012
Other Editions of This Title:
Paperback (11/27/2012)
Other (2/1/2013)
Compact Disc (11/27/2012)
MP3 CD (11/27/2012)
Compact Disc (11/27/2012)
* Individual store prices may vary.
Description
Moonshifted
An Edie Spence Novel
Cassie Alexander
After surviving a brutal vampire attack, Nurse Edie Spence is ready to get back to work attending to supernatural creatures in need of medical help. But her nursing skills are put to the test when she witnesses a hit-and-run on her lunch break. The injured pedestrian is not only a werewolf, he's the pack leader. And now Edie's stuck in the middle of an all-out were-war
With two rival packs fighting tooth and nail, Edie has no intention of crossing enemy lines. But when she meets her patient's nephew a tattooed werewolf named Lucas with a predatory gleam in his eye that's hard to resist Edie can't help but choose sides. The question is: can she trust this dangerous new ally? And can she trust her own instincts when she's near him? Either way, Edie can't seem to pull away even if getting involved makes her easy prey
About the Author
In addition to being a writer, Cassie Alexander is an active registered nurse. Nightshifted is her debut novel. All of her patients are of the human variety...she thinks.
Praise For Moonshifted…
Praise for the Edie Spence series
"Full of action, fantastic characters and situations that will make you want to kick some bad guys where it counts." – Urban Fantasy Investigations
"Cassie Alexander shows up twice on my Best of 2012 list. With her brand new Edie Spence series, she singlehandedly slaked my thirst for new urban fantasy. I cannot wait to see how many slots she nabs this coming year." – Angieville
"Cassie Alexander's first book about Nurse Edie Spence is dark and energetic. You'll really enjoy it; I'm looking forward to reading the others in the series."—Charlaine Harris, New York Times bestselling author of the Southern Vampire Mysteries

"Moonshifted starts some big changes for our heroine and I cannot wait to read more." – Between Dreams and Reality
"Moonshifted is even better than the first. There was more action, more snarkiness, and even more sexiness. I can't wait to read more from Alexander and more about Edie Spence." – Book Sake
"Steamy and entertaining…Edie's growing personality—and the cliffhanger ending—will keep fans hooked." –Publishers Weekly
"You can feel the life pulse through this novel.  I highly recommend Moonshifted if you are interested in a fast paced urban fantasy with mystery, mayhem, family drama, secrets, sex, lies, politics and a very human, very relatable, protagonist who faces the supernatural and doesn't back down or give up!  I am eagerly waiting for the 3rd book. I need more!" –The Book Tart
"A fast, sexy return to the utterly unique world of Edie Spence.  Moonshifted takes the world Cassie Alexander presented in Nightshifted and adds a whole new level of danger and intrigue.  Absolutely recommended." --Seanan McGuire, award-winning author of Ashes of Honor
"I enjoyed every bit of this book.  Edie Spence series is for sure one of the best UF books around." --Under the Covers
"Cassie Alexander's Edie Spence series stands out among a sea of new urban fantasy series as distinctive, creative and as striking the right balance between action and character drama. If you're a fan of urban fantasy and your not reading this, you're missing out." –Clear Eyes, Full Shelves
"The perfect amount of humor and horror. Moonshifted absolutely shone in the sequel department, extending my affection for the characters, while introducing new angles to sink my teeth into. This is urban fantasy of the highest order. However will I survive the wait for book three?" – Angieville
"Dark and clever full moon insanity that will get into your blood, crawl under your skin and haunt your dreams." —Sherrilyn Kenyon, #1 New York Times bestselling author of the Dark Hunter series
"The best debut  I've read all year. Nightshifted is simply amazing!" —Kat Richardson, bestselling author of the Greywalker series
"Nightshifted's main character, nurse Edie Spence, has a distinctive, appealing, and no-nonsense style that you won't quickly forget. Add to that a paranormal population that needs medical care for some very odd reasons, and you have a winner of a debut novel." --Kate Elliott, author of the Cold Magic series
"Fresh, exciting, dark, and sexy, Nightshifted is excellent urban fantasy that grabs you by the throat and pulls you along for a wild ride. Cassie Alexander is an author to watch!" --Diana Rowland, author of Mark of The Demon
"Nurse Edie Spence is gutsy, compassionate and determined—traits that quickly manage to get her into serious trouble!  A host of intriguing characters enliven this story that is edgy, funny and exciting.  A very impressive debut!" –Romantic Times
"Medical drama and vampire cold wars intersect in this solid urban fantasy debut.  Alexander's zombies are particularly well designed, and the hospital environment adds an intriguing additional dimension." –Publishers Weekly
"I loved this book. What a breath of fresh air!  It's filled with fascinating characters, including an enigmatic zombie firefighter, weres, shapeshifters, and of course, vampires. A memorable scene with a STD afflicted dragon (yup) had me on the edge of my seat, the budding romance with Ti (zombie firefighter!) is sweet and tender, and I just plain loved hanging out with Edie. Nightshifted is a very strong start to what promises to be a wonderful new series!" –My Bookish Ways
"Edie is a fun character with heart and charisma, making it easy to fall for her and want to see her succeed in all of her adventures, whether they be dealing with paranormal patients, evil vampires, or potential lovers. If you like your urban fantasy to have a dose of romance, then Nightshifted is for you.  Highly recommended." –The Debut Review
"I really enjoyed the new type of monster mythologies introduced in NIGHTSHIFTED. I especially liked the idea that you need a certain amount of blood exposure before becoming a full fledged vampire. I can't wait to read more about the Y4 wing of County Hospital's residents and this strange new world when the next book comes out." –All Things Urban Fantasy
"Alexander's first novel launches a new series that should appeal to fans of medical thrillers as well as urban fantasy."–Library Journal
"Alexander has created a wonderful world of paranormal that we don't usually get to see. Edie Spence is so wonderfully human in a world of ghost CD players, vampires, zombies, weres, shifters and crappy pay checks. Read this book and you will be swooning (I promise), yelling and laughing all at the same time.  A must read indeed!"  --Bodice Rippers, Femme Fatales and Fantasy