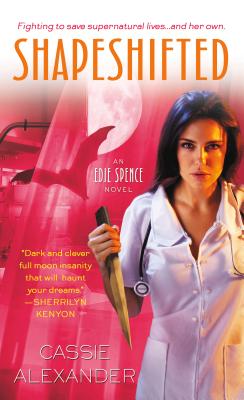 Shapeshifted (Mass Market)
An Edie Spence Novel
St. Martin's Paperbacks, 9780312553418, 320pp.
Publication Date: June 4, 2013
* Individual store prices may vary.
Description
SHAPESHIFTED
Cassie Alexander
Nurse Edie Spence is once again called upon to save a life...and this time, it's personal. Can her new community of zombies, vampires, and shapeshifters come to her rescue when she needs them most?
When Edie was fired from her paranormal nursing job at County Hospital, her whole world came crashing down. Now she's is once again shaken to her core. Her mother is deathly ill and there's only one thing that will save her: vampire blood. But with the paranormal community shunning Edie, where can she obtain it...without losing her own life in the process?
SHAPESHIFTED
Edie hopes to procure it at her new job at the clinic across town, where the forces of evil loom large. Vampire gang wars are rampant. Old underground enemies are rising to the surface. And Edie's zombie ex-boyfriend has arrived at the scene-but is he the same man he used to be? And what should she make of the enigmatic doctor with whom she shares an unexpected connection? She'll have to figure it out soon, because all hell is about to break loose-literally-and time is running out...
"Shapeshifted is the third Cassie Alexander novel I've read, and I enjoyed it just as much as the first. Edie Spence, Alexander's nurse protagonist, has a real talent for getting into trouble and somehow getting out of it, but each time she seems to have sacrificed something, even if it's only her couch. And she's so often sleep-deprived, I worry a little about her patients. But Edie is loyal and tough and determined, and these are all characteristics you want in an urban fantasy hero, which she certainly is. In this book, Edie finds her mother has cancer, and Edie wants some vampire blood to cure her. But Edie's being shunned by the supernatural community. How's she going to get it? A loose plot point or two get tied up in this book, but other threads are left open. We can all look forward to what happens next."--New York Times bestselling author Charlaine Harris
About the Author
In addition to being a writer, Cassie Alexander is an active registered nurse in California.  Nightshifted is her debut novel. 
Praise For Shapeshifted: An Edie Spence Novel…
"The best debut I've read all year. Nightshifted is simply amazing!" —Kat Richardson, bestselling author of the Greywalker series
"Edie Spence has a distinctive, appealing and no-nonsense style that you won't quickly forget. Add to that a paranormal population that needs medical care for some very odd reasons, and you have a winner of a debut novel." —Kate Elliott, author of the Cold Magic series, on Nightshifted
"Fresh, exciting, dark, and sexy, Nightshifted is excellent urban fantasy that grabs you by the throat and pulls you along for a wild ride. Cassie Alexander is an author to watch!" —Diana Rowland, author of Mark of The Demon
"There's so much paranormal stuff out there that I often find myself longing for some true urban fantasy. Nightshifted is the one I was starving for. It's gritty and dark, its heroine jaded and tough, and both of them are studded with moments of humor and human frailty." —Angieville.com
or
Not Currently Available for Direct Purchase