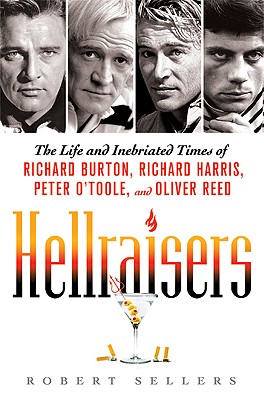 Hellraisers: The Life and Inebriated Times of Richard Burton, Richard Harris, Peter O'Toole, and Oliver Reed (Hardcover)
The Life and Inebriated Times of Richard Burton, Richard Harris, Peter O'Toole, and Oliver Reed
Thomas Dunne Books, 9780312553999, 304pp.
Publication Date: December 8, 2009
* Individual store prices may vary.
or
Not Currently Available for Direct Purchase
Description
The Boozy Biography of the Four Greatest Actors to Ever Walk--Or Stagger--Into a Pub. Richard Burton, Richard Harris, Peter O'Toole, and Oliver Reed: On screen they were stars. Off screen they were legends!Hellraisers is the story of drunken binges of near biblical proportions, parties and orgies, broken marriages, riots, and wanton sexual conquests. Indeed, acts so outrageous that if you or I had perpetrated them we could have ended up in jail. Their mercurial acting talent and love from the press and the public allowed them to get away with the kind of behaviour that today's film stars could scarcely dream of. They were truly the last of a breed, the last of the movie hellraisers.This book traces the intertwining lives and careers of Burton, Harris, O'Toole, and Reed, plus an assortment of other movie boozers who crossed their path. It's a celebratory catalogue of their miscreant deeds, a greatest-hits package, as it were, of their most breathtakingly outrageous behavior, told with humor and affection. You can't help but enjoy it—after all, they bloody well did.
"God put me on this earth to raise sheer hell."--Richard Burton
"I don't have a drink problem. But if that was the case and doctors told me I had to stop I'd like to think that I would be brave enough to drink myself into the grave."--Oliver Reed
"I was a sinner. I slugged some people. I hurt many people. And it's true, I never looked back to see the casualties."--Richard Harris
"Booze is the most outrageous of drugs, which is why I chose it."--Peter O'Toole
About the Author
ROBERT SELLERS is the author of eight books. He contributes regularly to "Empire, Total Film, Cinema Retro, "and "The Independent. "A former stand up comedian, he lives in the United Kingdom with his wife and daughter.
Praise For Hellraisers: The Life and Inebriated Times of Richard Burton, Richard Harris, Peter O'Toole, and Oliver Reed…
"Told in the free-ranging anecdotal style of the bar stool bard--and taken, presumably, with the requisite tumberful of tipple--these breezy tales of outcast British actors stumbling, bumbling and humping their way to stardom, offer up truly guffaw-worthy camp and idiocy. All the classic bits are there. . . . The sprightly smash 'n dash of the prose so wonderfully captures the wanton belligerence of both binging and stardom you almost feel the guys themselves are telling the tales (and moaning and toasting all the while.)"
--GQ 
"A book celebrating famously unrepentant drunks is a welcome surprise . . . Like the rejuvenating martinis and blurry haze of cigarettes in "Mad Men," Robert Sellers's nostalgic Hellraisers . . . amounts to an unapologetic celebration of the plastered and the damned in our sanctimonious "Oprah" age of public confession and easy redemption."
--The Wall Street Journal
 "Robert Sellers' outrageously entertaining history proves that today's celebrities don't have much on Richard Burton, Peter O'Toole, Richard Harris and Oliver Reed."
--The Daily Beast
"Hellraisers wants only to be a rowdy collection of greatest hits, and it lives up to that fun-loving ambition."
--The New York Times
"An incredibly entertaining series of anecdotes, interspersed with unpretentious and conversational interviews--all about drinking."
--The La Times
"As the colorful anecdotes collected in this book make clear, some stars are born rather than made."
--The New York Post
"Their names are included up there with the acting greats and these boys spent quite a bit of time behaving badly. From O'Toole getting arrested for wooing an insurance building, Reed dropping his pants in public to show off his "mighty mallet," Harris attacking cars in Italy, to Burton urinating onstage, it is laid out in hilarious detail by Sellers. The hijinks, happening in a time before real paparazzi we have now, did not come without a price, although while on top, these men lived life to the fullest and never looked backward or even forward. . . . These extraordinary characters and ultimately charming men continued to grab life by the horns even when the partying slowed. The men were more than actors; they were legends, and they never let anyone forget it for an instant."
--San Francisco Book Review
"The most outrageous film book of the season, by far, is Robert Sellers' Hellraisers. . . . We no longer think of the exploits and peccadilloes of self-annihilating alcoholics as a roistering, almost Elizabethan source of anecdotage and amusement, but for the last historical period where people did, Burton, Harris O'Toole and Reed were the source of more stories, both hilarious and monstrous, than anyone else."
--The Buffalo News
"Equal parts funny and appalling, Hellraisers takes us back to the glory days of stage and screen actors Peter O'Toole, Richard Burton, Richard Harris and Oliver Reed."-
-Connecticut News
"There are some wonderful tales here."
--Dallas Morning News
Coverage from NPR
Advertisement