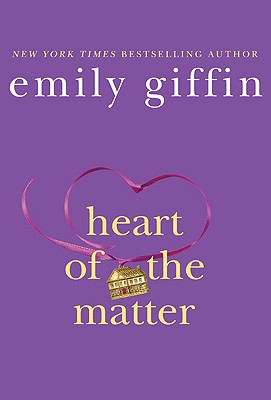 Heart of the Matter
Hardcover

* Individual store prices may vary.
Other Editions of This Title:
Paperback (3/15/2011)
Paperback (8/1/2011)
Hardcover (11/1/2010)
Paperback (6/1/2011)
Compact Disc (5/11/2010)
Hardcover, Large Print, Large Print (6/1/2010)
Mass Market (6/3/2014)
Paperback, Large Print (3/29/2011)
Description
"Giffin excels at creating complex characters and stories that ask us to explore what we really want from our lives."--Atlanta Journal-Constitution Tessa Russo is the mother of two young children and the wife of a renowned pediatric surgeon. Despite her own mother's warnings, Tessa has recently given up her career to focus on her family and the pursuit of domestic happiness. From the outside, she seems destined to live a charmed life. Valerie Anderson is an attorney and single mother to six-year-old Charlie--a boy who has never known his father. After too many disappointments, she has given up on romance--and even to some degree, friendships--believing that it is always safer not to expect too much. Although both women live in the same Boston suburb, the two have relatively little in common aside from a fierce love for their children. But one night, a tragic accident causes their lives to converge in ways no one could have imagined. In alternating, pitch-perfect points of view, Emily Giffin creates a moving, luminous story of good people caught in untenable circumstances. Each being tested in ways they never thought possible. Each questioning everything they once believed. And each ultimately discovering what truly matters most.
Praise For Heart of the Matter…
"[A] modern-day Jane Austen." —Vanity Fair "In HEART OF THE MATTER, [Giffin] again uses her great wit and gift of storytelling to weave a tale that's nuanced, empathetic and, at times, heartbreaking. Matters of the heart are always complicated, and Giffin deftly shows you why." —Associated Press
"Giffin's latest opens with one of the more haunting scenes in recent memory [and] towards the end things are so tense that the pages pop with each turn."
—People
"With [an] adulterous path outlined, Giffin could easily take sides. But she doesn't. Instead, she alternates between Tessa's and Valerie's points of view, dissecting the feelings and insecurities that can dismantle even the most intelligent people… Amid all the angst, Giffin displays her trademark ability to capture the complexities of human emotions while telling a rip-roaring tale."
—Washington Post
"Giffin's calling card has always been her ability to delve into the workings of relationships. But in her latest book the best-selling novelist probes deeper than ever… With intelligence, humor and piercing insight, Giffin shows that in matters of love, it is possible to be right and yet so wrong."
—Family Circle
"With realistic dialogue and a sharp depiction of relationships, Giffin crafts an emotional, effortless read."
—More
"Giffin beautifully shows how quickly need becomes love…[and her] chronicle of fluid, almost casual marital disconnect is a powerful cautionary tale."
—Boston Globe
"In HEART OF THE MATTER, Giffin delivers her best book yet. Once again she plays with the idea of point of view, but this time she wraps it into a single, tightly written narrative that creates an addictive page-turning sense of tension. [W]hat makes this novel special are the emotional depths to which Giffin takes her readers [and] the question of what the aftermath can possibly look like for these two likable characters is what keeps readers glued to Giffin's engaging tale."
—Dallas Morning News
"There are no easy answers here, in a novel that is consistently engrossing right to the surprising finish."
—Seattle Times
"Giffin's latest novel delves deep into the all-too-tricky matters of the heart…this juicy read will make you feel like you're sneaking a peek into your best friend's diary."
—Redbook
"Giffin's books are fast-moving, emotionally absorbing stories about female friendships, marriage and childbirth."
—Chicago Tribune
"Even as you steel yourself for [the book's pivotal moment], it's hard to read when it happens, which is what sets this book a step above so many others...[Giffin] creates characters in Tessa, Valerie and Nick who are believable and mostly well-intentioned even as they make obviously bad choices."
—St. Louis Post-Dispatch
"As HEART OF THE MATTER takes its time documenting the inexorable slide toward an affair, the slow-moving sequence of events rings true."
—Atlanta Journal-Constitution
"Emily Giffin's newest novel is a little painful to read. OK, a lot painful to read. As a reader, you find yourself in the oddly painful position of rooting for two women who can't both get what they want. Your heart breaks for both of them [but] you'll know that feeling this kind of emotional torture with and about characters is a good thing. It's simply cathartic."
—Ft. Worth Star-Telegram
"Unfolding from Tessa and Valerie's alternating viewpoints, [HEART OF THE MATTER] will draw you in with beautifully complex characters who come across as nuanced and as flawed as people in real life. Giffin avoids victimizing Tessa while allowing empathy for Valerie, underscoring that all of us are capable of making mistakes that hurt those we love most."
—VIV magazine
"[A] brutally honest book in that it never falters in its depiction of hope and heartache. Emily Giffin is a talented writer who re-gifts her talent in the books she creates…With HEART OF THE MATTER she turns up the heat and gives us her best novel yet." —
Huffington Post
"Giffin punctures suburban trophy mothers and private school privilege, rising above the often-shallow chick fray with a gimlet-eyed skepticism for the traps modern women fall into."
—The Atlantan
"Giffin's talent lies in making her characters believable and relatable, and readers will be enthralled by this layered, absorbing novel."
—Booklist ("Starred Review")
"HEART OF THE MATTER is a messy, complicated, often uncomfortable portrait of a marriage—and two families—in crisis. But it has everything readers love about Emily Giffin's books: the heart, the empathy, the truth." —Bookpage
"Questions of infidelity fill this book, which follows the life of pediatric surgeon Nick Russo through the eyes of Tessa, his wife, and Valerie, the mother of one of his patients, whom he is tempted to have an affair with. Transforming the women into more and more sympathetic characters with each turn, HEART OF THE MATTER is an emotional tale of temptation, redemption and letting love lead the way." —Woman's Day
"Emily Giffin continues her streak of penning summer must-reads with HEART OF THE MATTER."
—New York Metro
"A touching story about marriage, fidelity and two mothers who find themselves inextricably linked."
—New York Family
"Though Emily Giffin has examined relationships in all of her novels, she reaches a new level of intensity with HEART OF THE MATTER. With characters who are older and wiser than those in her past books, she is able to examine the more serious topics that present themselves within long-term relationships and parenthood. Her characteristic flowing style of writing makes this book no different from her others: one you won't want to put down."
—Woodbury magazine
St. Martin's Press, 9780312554163, 384pp.
Publication Date: May 11, 2010
About the Author
Emily Giffin is the New York Times bestselling author of "Something Borrowed," "Something Blue," "Baby Proof "and "Love The One You're With." She lives in Atlanta with her husband and three young children.
or
Not Currently Available for Direct Purchase