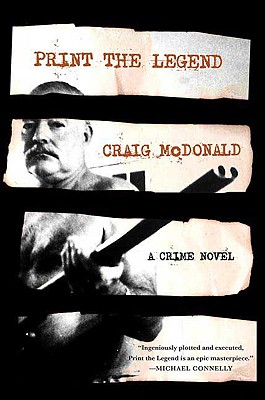 Print the Legend
Hardcover

* Individual store prices may vary.
Other Editions of This Title:
Digital Audiobook (5/20/2010)
Paperback (5/19/2015)
Description
Ingeniously plotted and executed, Print the Legend is an epic masterpiece from Craig McDonald. Beginning to end, I was riveted by this story of character, history and intrigue.--MICHAEL CONNELLY
The competition for the future of crime fiction is fierce, but don't take your eyes off Craig McDonald. He's wily, talented and -- rarest of the rare -- a true original. I am always eager to see what he's going to do next."--LAURA LIPPMAN
What critics might call eclectic, and Eastern folks quirky, we Southerners call cussedness -- and it's the cornerstone of the American genius. As in: "There's a right way, a wrong way, and my way." You want to see how that looks on the page, pick up any of Craig McDonald's novels. He's built him a nice little shack out there way off all the reg'lar roads, and he's brewing some fine, heady stuff. Leave your money under the rock and come back in an hour. --
JAMES SALLIS
With
Print the Legend
, with a James Ellroy-like scope and vision of national history, McDonald takes on governmental conspiracy, Hemingway hagiography, the under-history of the FBI, the Death of the Author (literal and figurative) and the tantalizing, destructive mythologization of the Writer's Life. While the scale is immense, McDonald's hand is deft, and we never forget that, at its center, this is a human story, complex and bruising and deeply felt. --
MEGAN ABBOTT
"
Print the Legend
is a landmark book. Lassiter for me is the Flashman/Zelig of the new era, but with a ferocious literary knowledge that is worn so lightly. A book beyond genre, stunning." --
KEN BRUEN
Craig McDonald's debut,
Head Games
, a relentlessly slick and action packed literary caper novel, was shortlisted for the Edgar, Anthony, Crimespress and Gumshoe awards for Best First Novel. Now, with
Print the Legend,
McDonald exceeds the extraordinary promise of his debut, delivering a consummate mystery about a conspiracy gone wrong, and the outer edges of creative jealousy and obsessive revenge. It was the shot heard around the world: On July 2, 1961, Ernest Hemingway died from a shotgun blast to the head... 4 years later, two men have come to Idaho to confront the widow Hemingway—men who have doubts about the circumstances of Hemingway's death. One is crime novelist Hector Lassiter, the oldest and best of Hem's friends...the last man standing of the Lost Generation. Hector has heard rumors of some surviving Hemingway manuscripts: a "lost" chapter of
A Moveable Feast
and a full-length novel written by a deluded Hemingway that Hector fears might compromise his own reputation. The other man is professor Richard Paulson, who along with his pregnant wife Hannah, herself an aspiring writer, is bent on proving that Mary Hemingway murdered Papa. As Hector digs into the mystery of Hemingway's lost writings, he uncovers an audacious, decades-long conspiracy tied to the emergent art movements of 1920's Paris, the most duplicitous of Cold War espionage tactics, and J. Edgar Hoover's FBI...
Minotaur Books, 9780312554378, 352pp.
Publication Date: February 16, 2010
About the Author
Craig McDonald is an award-winning journalist, editor and fiction writer. In 2008, His debut novel, "Head Games, " was nominated for the Edgar, Anthony, Gumshoe and "Crimespree Magazine" awards for best first novel.
or
Not Currently Available for Direct Purchase