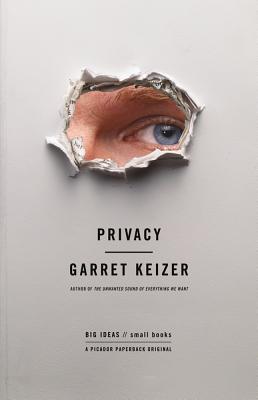 Privacy (BIG IDEAS//small books)
Paperback

* Individual store prices may vary.
Description
American essayist and Harper's contributing editor Garret Keizer offers a brilliant, literate look at our strip-searched, over-shared, viral-videoed existence.

Body scans at the airport, candid pics on Facebook, a Twitter account for your stray thoughts, and a surveillance camera on every street corner -- today we have an audience for all of the extraordinary and banal events of our lives. The threshold between privacy and exposure becomes more permeable by the minute. But what happens to our private selves when we cannot escape scrutiny, and to our public personas when they pass from our control?

In this wide-ranging, penetrating addition to the Big Ideas//Small Books series, and in his own unmistakable voice, Garret Keizer considers the moral dimensions of privacy in relation to issues of social justice, economic inequality, and the increasing commoditization of the global marketplace. Though acutely aware of the digital threat to privacy rights, Keizer refuses to see privacy in purely technological terms or as an essentially legalistic value. Instead, he locates privacy in the human capacity for resistance and in the sustainable society "with liberty and justice for all."
Praise For Privacy (BIG IDEAS//small books)…
"[PRIVACY is] a series of provocative juxtapositions and suggestive arguments. It encourages its readers to reframe how they think of privacy before it's too late. Read it to jolt your imagination into new territory, and to understand why the privacy that many of us sacrifice so readily ought to be held more dear. ... there's an abundance of nutritional thought in 'Privacy.' Keizer has a way of turning lazy notions inside out to exhibit their fallacies." —Laura Miller, Salon

"Keizer ably describes the disturbing and ever-diminishing expectations of privacy...and makes a cogent analysis of the threats to privacy that accompany smartphones and other digital devices. Keizer's commentary reaches deeply into the fabric of post 9/11 America and finds a landscape that has compromised the fundamental human need for privacy, and argues passionately for the value of privacy in a democratic society" —Publishers Weekly

"Acclaimed essayist and Harper's contributor Keizer conducts a philosophical meditation on the nature of privacy and finds that the 'right to be let alone' is a lot more complex than many may think.... With unyielding analytical scrutiny, Keizer raises plenty of doubt about the primacy of so-called private lives.... The consequences of such revelations are vast, and readers will be left considering the implications long after the last page is turned. A provocative and unsettling look at something most take for granted--but shouldn't." —Kirkus Reviews

"[A] thoughtful examination of the concept of privacy... Though debates over privacy tend to be driven by technological developments-Facebook and the like-Keizer reminds us that our personal and cultural "privacy settings" or lack of them have political, environmental, and even spiritual valences that are ignored at the expense of democracy and social justice.... Keizer's cautionary wisdom is informed by a deeply felt humanism and presented with eloquence
and wit." —Brendan Driscoll, Booklist

"Privacy brings Garret Keizer's spirited, reflective, whip-smart and incisive analysis to this far-ranging yet elusive concept." —Concord Monitor

"We all know about airport security, strip searches, racial profiling, and the increasingly sophisticated ways that corporate America uses to track our every interest for marketing purposes. Mr. Keizer digs much deeper than that well plowed ground. . . . This is a dense, thoughtful, and deeply researched (the bibliography is 11 pages) little book that covers a lot of ground, makes one think, and explores a variety of aspects of the general theme, some more easily substantiated than others. . . . This is a book to be read slowly, thoughtfully, and probably more than once." —Barton Chronicle (Vermont)

"Privacy has become one of the defining issues of our time, and Garret Keizer is now its most searching interrogator and publicist. He is vast of reference, bracing of clarity, and graceful of expression. What an invigorating instruction: to follow an engaged intelligence as it hits its marks, one after the next." —Sven Birkerts, author of The Glutenberg Elegies: The Fate of Reading in an Electronic Age

"Garret Keizer is a very serious thinker and a good writer, much concerned with fundamental realities and fundamental problems. As with any good essay, reading Privacy is not the end of it; it calls for serious contemplation." —John Lukacs, author of Five Days in London: May 1940

"Very few writers combine thoughtfulness and rage as satisfyingly as Garret Keizer….This is not just a book about noise; it is a profound meditation on power---its painful absence and its flagrant abuse." —Naomi Klein, author of The Shock Doctrine on The Unwanted Sound of Everything We Want

"This is a masterpiece of social reportage and---wondrously, given all its burning indictments---of decency and affirmation." —Ron Powers, author of Mark Twain: A Life and coauthor of Flags of Our Fathers on The Unwanted Sound of Everything We Want
Picador, 9780312554842, 208pp.
Publication Date: August 7, 2012
About the Author
Garret Keizer is the author, most recently, of Privacy and The Unwanted Sound of Everything We Want. A contributing editor at Harper's magazine and a former Guggenheim Fellow, he has written for Lapham's Quarterly, The Los Angeles Times, Mother Jones, The New Yorker, The New York Times, and The Washington Post, among other publications. He lives in Vermont.
or
Not Currently Available for Direct Purchase