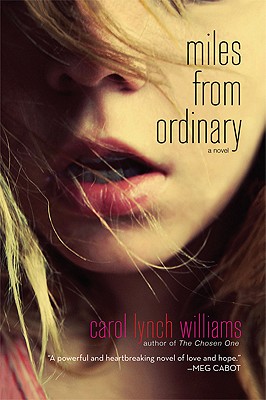 Miles from Ordinary (Hardcover)
St. Martin's Griffin, 9780312555122, 208pp.
Publication Date: March 15, 2011
Other Editions of This Title:
Paperback (3/13/2012)
* Individual store prices may vary.
Description
"Imagine Anna Quindlen or Sue Miller turning her attention to writing a young adult novel, and you have an idea what Williams] has done for early teen readers " --Audrey Couloumbis, author of the Newbery Honor Book "Getting Close to Baby"
""
""Thirteen-year-old Lacey wakes to a beautiful summer morning excited to begin her new job at the library, just as her mother is supposed to start work at the grocery store. Lacey hopes that her mother's ghosts have finally been laid to rest; after all, she "seems "so much better these days, and they really do need the money. But as the hours tick by and memories come flooding back, a day full of hope spins terrifyingly out of control....
"No one can get inside the head and heart of a 13-year-old girl better than Carol Lynch Williams, and I mean no one," said James S. Jacobs, Professor of Children's Literature at Brigham Young University, of her breakout novel, "The Chosen One." Now this award-winning YA author brings us an equally gripping story of a girl who loves her mother, but must face the truth of what life with that mother means for both of them.
About the Author
Carol Lynch Williams is the author of young adult novels including "The Chosen One," which was named one of 2010 ALA's "Quick Picks for Reluctant Young Adult Readers" and "Best Books for Young Adult Readers." It also won the Whitney and the Association of Mormon Letters awards for the best young adult fiction of the year, as well as numerous other honors. Williams was the winner of the 2009 PEN/Phyllis Naylor Working Writer Fellowship. She grew up in Florida and now lives in Utah.
Praise For Miles from Ordinary…
"Absorbing....[Williams] has crafted both a riveting, unusual suspense tale and an absolutely convincing character in Lacey. The book truly is miles from ordinary, in the very best way. Outstanding." --Kirkus Reviews (starred review)"In a novel spanning a mere 24 hours, Williams takes readers on an emotional roller-coaster ride....Poignant." --Publishers Weekly"Gripping....Provocatively dark and at times downright scary, this novel will have readers rushing to the unforeseen, achingly authentic conclusion." --BooklistPraise for THE CHOSEN ONE:
"A powerful and heartbreaking novel of love and hope." --Meg Cabot, New York Times bestselling author of The Princess Diaries and Airhead
"Fiction can offer emotional truth where other tools fail ….Williams unveils life among the Chosen with spare, evocative writing and an honest sense of character that helps bridge the rift between Kyra's world and ours....The cinematic drama of her life…is a means to reach a quieter truth, revealing that moment in childhood when you recognize your thoughts as your own and discover forces in the world that your parents cannot--or will not--protect you from."--The New York Times Book Review (Editor's Choice)
"Intensely gripping and grippingly intense." --Kirkus Reviews
"Extraordinary....The Chosen One is brave, its plumb is true, it's a masterpiece." --Kathi Appelt, author of the National Book Award finalist The Underneath
"Makes the heart race, the teeth grind, and the brow bead up in sweat." --Gregory Maguire, New York Times bestselling author of Wicked and A Lion Among Men
or
Not Currently Available for Direct Purchase