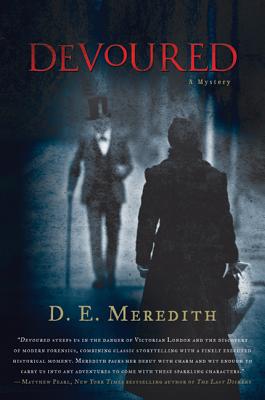 Devoured (A Hatton and Roumande Mystery #1)
Hardcover

* Individual store prices may vary.
Other Editions of This Title:
Hardcover (8/1/2012)
Description
One of London's first forensic detectives chases a grisly killer in this stunning debut mystery rich in period detail and sinister intrigue.
London in 1856 is gripped by a frightening obsession. The specimen-collecting craze is growing, and discoveries in far-off jungles are reshaping the known world in terrible and unimaginable ways. The new theories of evolution threaten to disrupt the fragile balance of power that keeps the chaotic city in order—a disruption that many would do just about anything to prevent.
When the glamorous Lady Bessingham is found murdered in her bedroom, surrounded by her vast collection of fossils and tribal masks, Adolphus Hatton and his morgue assistant Albert Roumande are called in to examine the crime scene—and the body. In the new and suspicious world of forensics and autopsy examinations, Hatton and Roumande are the best. But the crime scene is not confined to one room. In their efforts to help Scotland Yard's infamous Inspector Adams track down the Lady's killer, Hatton and Roumande uncover a trail of murders all connected to a packet of seditious letters that, if published, would change the face of society and religion irrevocably.
D.E. Meredith's measured prose and eye for exquisite detail moves seamlessly from the filthy docks on the Isle of Dogs to the jungles of Borneo and the drawing rooms of London's upper class. Her slow-burning mystery builds to a shocking conclusion, consuming victims—and Victorian London—as it goes.
Praise For Devoured (A Hatton and Roumande Mystery #1)…
"Devoured steeps us in the danger of Victorian London and the discovery of modern forensics, combining classic storytelling with a finely-executed historical moment. Meredith packs her debut with charm and wit enough to carry us into any adventures to come with these sparkling characters." —Matthew Pearl, New York Times bestselling author of The Last Dickens
"Devoured is an absorbing mystery, with an atmosphere that captures wonderfully the contrasts of science and superstition, of domesticity and imperial exoticism, that made the Victorian era so richly interesting. Hopefully a sequel is already on the way!" —Charles Finch, author of The Fleet Street Murders
"Lovers of Victorian mystery will delight in Denise Meredith's terrific debut, where murder, the science of specimen collecting, and early forensic medicine combine into a riveting adventure." —Stefanie Pintoff, Edgar Award-winning author of In the Shadow of Gotham
"Meredith's debut novel delves into the ugly secrets of that straight-laced time and believably renders life among the different social strata.... Think Michael Cox (The Meaning of Night) meets Jonathan Barnes (The Somnambulist). Strongly recommended for fans of historicals." —Library Journal, starred review
"Meredith's research is superb. The smallest details show the interior life of the characters and the conditions they lived in. This is a dark story, but fascinating and brilliantly executed." —RT BookReviews, 4 and a half stars
"Something special. And then some.... Meredith, an Englishwoman with a degree from Cambridge University, has a fertile mind, from which springs a shocking conclusion that, in retrospect, is perfectly apparent. She fills this story of unbridled evil and immense sorrow with memorable characters and graceful prose, and her portrait of a world at an intellectual crossroads is powerful and evocative." —Richmond Times Dispatch
"Cleverly plotted… charming and convincing--very well done, and this likable and brainy team of detectives probably has a future." —Sullivan County Democrat
"If this debut is any indication, we are in for a long run of entertaining and thoughtful books.… Dark, creepy and fascinating Devoured is a book that lingers long after the reading is done." —Crime Spree magazine
"Hatton and Roumande are instantly memorable characters. Like all good ideas, they are obvious now that someone has thought of them. They are like Holmes and Watson in a 19th-century version of Bones or CSI: Miami set in pre-Agatha Christie London.... This is a compelling and sparkling murder mystery set in a time of new scientific ideas of evolution; a time when religion and the establishment, the power-holding upper-class elite, had everything to fear from change. Meredith explores these ideas through the eyes of her extremely likeable protagonists.... This is a slow-burning mystery that addresses human frailties and desires, fears and hopes, which are as relevant today as they were back at the dawn of science a century and a half ago." —The Sydney Morning Herald (Australia)
"This debut novel by Denise Meredith is an entertaining read. It reminded me of Masterpiece Mystery... The author does a good job of bringing the wintry streets of Victorian London and the steamy jungles of Borneo to life as she tells her story." —Historical Novel Society
"Fans of historical mysteries, especially those set in Victorian Europe, will definitely want to read D.E. Meredith's Devoured. A high body count, creative death scenes, cruel villains, beloved heroes, intriguing plots and subplots, and an exotic setting make this novel an enjoyable read." —GumshoeReview.com
"Devoured is a fascinating and sinister mystery set in Victorian London—in a time when a person could be killed for believing in something other than what was accepted." —Nightandweekends.com
"A complex amalgam of mystery and bloody terror, Devoured ties new and sacrilegious theories of evolution to the mysteries of nineteenth-century forensic techniques.… From the series of gruesome murders to the exotic delights of Broderig's letters to Hatton's burgeoning science, Meredith's tale is filled with dissenters and religious bigots, devious villains and buried animosities. The ultimate truths of men is lit by a microscope and a lamp, and it appears that all is ripe for Hatton and Adams to return in another outing, their vibrant partnership already taken to the brink as they walk the streets of a violent London, determined to protect the innocent against the deadliest schemes of men." —Curledup.com
Minotaur Books, 9780312557683, 304pp.
Publication Date: October 26, 2010
About the Author
D. E. Meredith read English at Cambridge, then ran the press office and the land mines campaign for the Red Cross, travelling extensively to Bosnia, Afghanistan and Rwanda during the conflicts. She worked as a consultant on media relations for Greenpeace and other worthy causes before embarking on The Hatton and Roumande Mysteries series, including Devoured and The Devil's Ribbon. She has two boys, a tall husband, a barking (mad) Parsons Terrier and lives at a secret location on the River Thames. When not writing, she runs, rides her bike like a lunatic or eats home made cake.