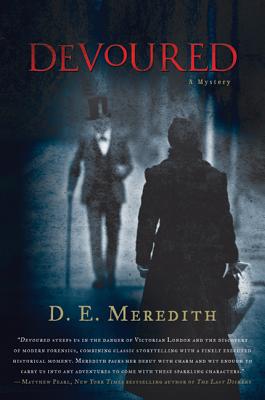 Devoured (Hardcover)
Minotaur Books, 9780312557683, 291pp.
Publication Date: October 26, 2010
Description
One of London's first forensic detectives chases a grisly killer in this stunning debut mystery rich in period detail and sinister intrigue.
London in 1856 is gripped by a frightening obsession. The specimen-collecting craze is growing, and discoveries in far-off jungles are reshaping the known world in terrible and unimaginable ways. The new theories of evolution threaten to disrupt the fragile balance of power that keeps the chaotic city in order a disruption that many would do just about anything to prevent.
When the glamorous Lady Bessingham is found murdered in her bedroom, surrounded by her vast collection of fossils and tribal masks, Adolphus Hatton and his morgue assistant Albert Roumande are called in to examine the crime scene and the body. In the new and suspicious world of forensics and autopsy examinations, Hatton and Roumande are the best. But the crime scene is not confined to one room. In their efforts to help Scotland Yard's infamous Inspector Adams track down the Lady's killer, Hatton and Roumande uncover a trail of murders all connected to a packet of seditious letters that, if published, would change the face of society and religion irrevocably.
D.E. Meredith's measured prose and eye for exquisite detail moves seamlessly from the filthy docks on the Isle of Dogs to the jungles of Borneo and the drawing rooms of London's upper class. Her slow-burning mystery builds to a shocking conclusion, consuming victims and Victorian London as it goes.
About the Author
D.E. MEREDITH read English at Cambridge, then ran the press office and the land mines campaign for the Red Cross, travelling extensively to Bosnia, Afghanistan and Rwanda during the conflicts. She worked as a consultant on media relations for Greenpeace and other worthy causes before embarking on "The Hatton and Roumande Mysteries" series for St Martin's Press (DEVOURED, Oct 2010, THE DEVIL'S RIBBON Oct 2011). She has two boys, a tall husband, a barking (mad) Parsons Terrier and lives at a secret location on the River Thames. When not writing, she runs, rides her bike like a lunatic or eats home made cake.
Advertisement