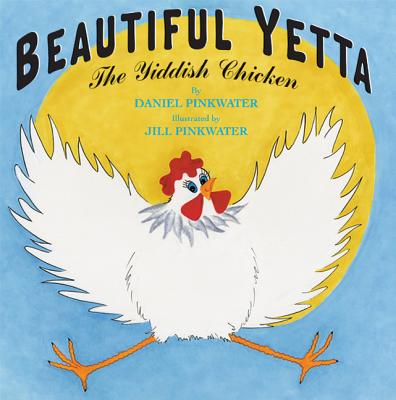 Beautiful Yetta (Hardcover)
The Yiddish Chicken
Feiwel & Friends, 9780312558246, 32pp.
Publication Date: May 25, 2010
* Individual store prices may vary.
Description
Yetta, beautiful Yetta, manages to escape from the butcher's shop. But now she is lost in Brooklyn--a strange place filled with rude rats and dangerous buses
geVAHLT
Oh, dear
But then, brave Yetta saves a small green bird from a sneaky cat, and his friends, the wild parrots of Brooklyn, are very grateful.
Muchas gracias, gallina hermosa
mooCHAS grahSEEas, gahYEEna ehrMOsa
Thank you very much, beautiful chicken
Has beautiful Yetta found her new home?
Inspired by real events, this multilingual story is a witty, warm, and wonderful read-aloud for any age.
About the Author
Daniel Pinkwater is the author and sometimes illustrator of more than 80 (and counting) wildly popular books. These books include 5 Novels, The Yggyssey, Lizard Music and Adventures of a Cat-Whiskered Girl. He is also an occasional commentator on National Public Radio's All Things Considered and appears regularly on Weekend Edition Saturday, where he reviews exceptional kids' books with host Scott Simon. Daniel also contributes to Wondertime, and has in the past been spotted on the pages of The New York Times Magazine, OMNI, and many other fine publications. In collaboration with Tony Auth, Daniel wrote an unfortunately short-lived comic strip, NORB, which was critically acclaimed by Jules Feiffer and Chaim Potok, and no one else. (It was really good, though.) Born in Memphis, Tennessee, Pinkwater grew up in Memphis, Chicago and Los Angeles, and studied art at Bard College. He lives in New York.
Praise For Beautiful Yetta: The Yiddish Chicken…
"It's classic Pinkwater: funny, weird, touching, and all about the joys of being sideways to reality...Daniel Pinkwater is a genius." --Corey Doctorow
"Fresh and nostalgic, the story is told in three languages - English, Yiddish (Yetta's native tongue, so to speak) and Spanish (those real-life Brooklyn parrots had to come from somewhere). Pluck is really the name of the game." --The San Francisco Chronicle
"Dedicated fans of the Pinkwaters will appreciate the offbeat, wry humor, as will those interested in the many urban legends surrounding Brooklyn's flocks of wild parrots."--School Library Journal
"An irreverent picture book that ingeniously combines three languages…Part immigrant story, part language lesson, and consistently fun, the Pinkwaters' newest tale reminds children that if you are confident in who you are and where you come from, friends will never be far away." --Jewish Journal of Los Angeles
"The real entertainment derives from the polyglot nature of the avians here…While occasionally there's a little joke in the translation itself (Yetta's hearty "Gevalt!" is translated demurely as "Oh, dear"), this isn't so much humor of misunderstanding as humor of the widely, even linguistically, divergent joining forces (the parrots' awed Spanish exclamations about Yetta's astounding beauty are deliciously absurd)." --BCCB
"Jill Pinkwater's hues squawk off the spacious pages with riotous energy, while unexpected shapes and perspectives rev up the action… what a find!"--Horn Book Magazine
"One of the most charming, huggable books I've ever read."--Hudson Valley News
"plenty of fun to be had…the Pinkwaters are to be applauded for expanding readers' Yiddish lexicon beyond simple phrases."--Publishers Weekly
"...breathlessly ingenuous narration...A delicious, loopy romp to savor whether it's Friday or not. Truly!" --Kirkus Reviews, STARRED review
"A warm twist on the immigration story that celebrates the richness of urban diversity."--Booklist
"This story speaks to the child who's new to a country, new to a neighborhood, or who simply finds himself on the outside looking for a way in. Yetta may be out of her element, but she knows who she is and acts with confidence. Brava!" --Shelf Awareness
Coverage from NPR