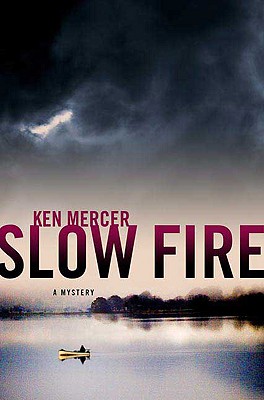 Slow Fire (Hardcover)
Minotaur Books, 9780312558352, 352pp.
Publication Date: February 16, 2010
* Individual store prices may vary.
or
Not Currently Available for Direct Purchase
Description
One morning, Will Magowan opens his mail and finds a mysterious job offer to become the police chief of Haydenville, a tiny town in rural Northern California.
Once a highly decorated LAPD narcotics detective, Will was terminated after a devastating personal tragedy drove him to become addicted to the heroin he was charged with keeping off the streets. Fresh out of rehab but jobless and estranged from his wife, Will now lives alone in an old Airstream trailer on the fringes of L.A.
Out of options, Will accepts the job. After moving to Haydenville, he discovers that the once postcard-perfect town is being corrupted by a criminal influence that threatens to destroy it.
Haydenville's normally law-abiding citizens begin to erupt in acts of unspeakable violence. Pets are going missing at an alarming rate. Stately Victorian homes are falling into disrepair.
With only a rookie officer at his disposal, Will risks everything in his quest to save Haydenville—entering a labyrinth of dark secrets that have remained buried for almost 40 years.
An emotionally complex and literate page-turner, Slow Fire marks the electrifying debut of a new series featuring Will Magowan.
About the Author
Ken Mercer was born in Newark, New Jersey in 1962 and began writing professionally at the age of 17. He has written for newspaper, magazine, radio, television, and feature films. "Slow Fire" is his first novel. He lives in California with his wife and daughter. For more about Ken Mercer, please visit kenmercer.com.
Praise For Slow Fire…
"SLOW FIRE is without a doubt violent... but exceptionally well-paced
and carefully plotted... and, we hope, the beginning of a fine new
series." -BookPage.
"SLOW FIRE is a fast-paced rural police procedural that shines a
spotlight on the small town meth problem that has not felt the impact
of the recession... Will is a fascinating hero." -The Mystery Gazette.
"Vulnerable and deeply damaged Magowan makes for a compelling protagonist in this crisp, well-written debut..." -Booklist
"... both his prose and his hero are refreshingly honest and direct." - Kirkus Reviews
"Dark and twisted, Ken Mercer's SLOW FIRE starts fast and burns bright. I couldn't put it down." -Robert Ellis
"Not one word wasted...writing as taut as stretched hemp."  - Ted Bell, New York Times Bestselling author  

"In SLOW FIRE, Ken Mercer's suspenseful, atmospheric, and emotionally raw debut, the author skillfully takes us beneath the peaceful facade of a seemingly idyllic town.  Haydenville looks like the perfect place for disgraced and grieving cop Will Magowan to find redemption.  Instead, he finds a labyrinth of dark secrets, lies, and crime that he must navigate -- while keeping his own demons at bay.  With it's gripping plot, colorful cast of characters and shocking ending, SLOW FIRE will definitely have readers looking for more from Ken Mercer." -- Lisa Unger, New York Times bestselling author of DIE FOR YOU

"A stellar debut. In Will Magowan he has created a hero we care about and fear for, a vulnerable and flawed man plagued by addictions, obsessions and his own shortcomings."-Louise Ure, Shamus Award-winning author of Liars Anonymous and The Fault Tree
Advertisement