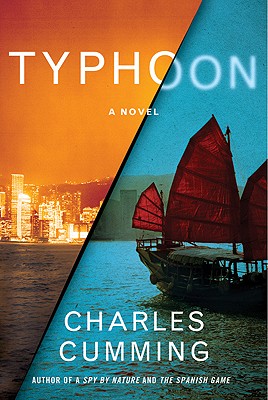 Typhoon
Hardcover

* Individual store prices may vary.
Other Editions of This Title:
Paperback (3/1/2011)
Description
Charles Cumming, lauded internationally as the successor to John le Carré, returns with his biggest, most ambitious thriller to date. Beginning in 1997, just as the British are about to re - turn Hong Kong to Chinese rule, Joe Lennox, a young opera tive for SIS (MI6), loses both his girlfriend and his first high profile asset—a prominent defector who disappears from a safe house. The girlfriend he lost to Miles Coolidge, a hard-bitten CIA agent; the asset to collusion between his bosses and the CIA. Over ten years later, during the run-up to the Beijing Olympics, Lennox is back in China, facing his old nemeses. With the CIA plotting to use an Islamic group to destabilize China, the SIS seeking to thwart them and his old asset the key to all of this, Joe Lennox, Miles Coolidge, and the girlfriend they shared are all hopelessly intertwined in a plot where trust is impossible and truth is unknowable.
Praise For Typhoon…
"Typhoon is easy to like. The plot is tight and complex, and the local details are accurate about the three main cities where it is set: Shanghai, Hong Kong and Beijing."—James Fallows, The New York Times Book Review  "In the tradition of old-school espionage fiction, Cumming lets character rather than plot carry this compelling thriller. William Lasker, a second-string agent of the British Secret Intelligence Service, takes on the job of writing a book about a rogue CIA plot against the People's Republic of China. The action, which takes place mainly in Hong Kong and Shanghai, focuses on Joe Lennox, an SIS undercover agent in China, and an older CIA veteran, Miles Coolidge. Several months before the turnover of Hong Kong to Chinese rule in 1997, a defector, Professor Wang Kaixuan, climbs out of the South China Sea and announces he has important secret information. After the professor disappears, Joe slowly learns the defector has become part of Typhoon, a secret CIA plan being run by Miles whose aim is to destabilize China. The conflict between Joe and Miles, both personal and professional, fuels this complex and satisfying novel."—Publishers Weekly (starred review)
St. Martin's Press, 9780312558529, 416pp.
Publication Date: October 27, 2009
About the Author
CHARLES CUMMING is the author of the international bestselling thrillers "A Spy By Nature "and "The Spanish Game. "He is a contributing editor of "The Week "magazine and currently lives in London.
or
Not Currently Available for Direct Purchase