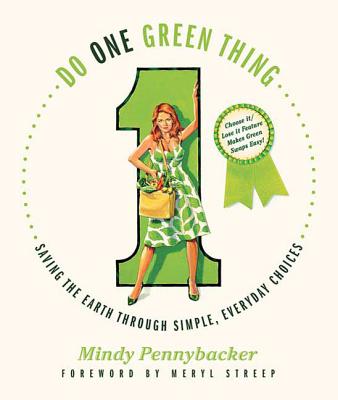 Do One Green Thing: Saving the Earth Through Simple, Everyday Choices (Paperback)
Saving the Earth Through Simple, Everyday Choices
Griffin, 9780312559762, 270pp.
Publication Date: March 16, 2010
Description
If you can only read and reference one green thing, make it this book: an easily comprehensible, clearly presnted source for green living. Everything you need to know is right here at your fingertips. Unlike a lot of other overwhelming green guides on the market, this is green decision making in bite sized pieces.With chose it/lose it comparisons throughout, now it's simple to figure out it's worth switching to a green detergent, what kind of plastic your sports bottle is made of, or which fish is safest to eat. Rather than spending time trying to "figure ou"t how best to go green, use this book and devote that time to "making" the difference.
About the Author
Mindy Pennybacker was editor-in-chief of THE GREEN GUIDE for over a decade, as well as co-founder of the affiliated website. Her writing has appeared in The New York Times, The Atlantic Monthly, Sierra, and The Nation, among others. Do One Green Thing grew out of her longstanding commitment to answering readers' questions about green living.
Praise For Do One Green Thing: Saving the Earth Through Simple, Everyday Choices…
"One green thing: It's so simple. This book takes the pressure off by giving you one easy but effective choice to make in each basic area of your life...  Do One Green Thing makes me feel happy and confident that more positive change is afoot, and that we all have an important and rewarding part to play." –Meryl Streep

"Provides multiple lists on good and bad choices for dozens of products and uses… Pennybacker includes not only "Choose it/Lose it" tables but also clearly elucidates why one should reach for canned wild salmon caught in Alaska as opposed to its farmed equivalent from the eastern seaboard.... The format and language are clear, and the outlook is determined as Pennybacker lays it all on the line for those eager to change, and leaves readers with no excuses for not starting immediately." –Booklist

"Mindy Pennybacker has provided a nifty catalogue of how to live more lightly on the earth.  You'll learn a good deal here, especially about how simple small changes can be." –Bill McKibben, author of Earth: Making a Life on a Tough New Planet
"The clearest, easiest-to-use, and most reliable guide to green living that I've seen, from one of our best all-round authorities on the topic." --Bob Schildgen, environment advice columnist for Sierra, the national magazine of the Sierra Club and author of the popular collection Hey Mr. Green
"This is a lovely book.  Practical and down-to-earth, it encourages each of us to follow our best aspirations, to take simple steps to improve our planet and enhance our own health and the health of all our children."
–Philip J. Landrigan
, MD, author of
Raising Children Toxic Free


"Helpful "Choose It" and "Lose It" charts and other graphics make it easy to make the green choice. The attractive, magazine-like layout makes this a book you'll be likely to thumb through often."
–Sierraclub.com


"This is the book I've been waiting for. Well researched and compactly presented,
Do One Green Thing
makes it quick and easy to decide what's best for our families, the planet, and the world's farmers. From pesticides and produce to nanotechnology and sunblocks, Pennypacker translates the latest research into concrete advice enabling every consumer to go green." 
–Margaret Mellon
, senior scientist and director of the Food & Environment Program at the Union of Concerned Scientists
"Now you can stop making excuses and go green in a way that suits you, and that you understand.
Do One Green Thing
is a trove of good advice that is fun to read. Added to that, Mindy's done all the hard work.  This is a wonderful book." 
–Jane Smiley,
Pulitzer Prizewinning author of 
A Thousand Acres


"Do one green thing:  Take this book with you when you shop!"
–Dani Shapiro
, author of
Slow Motion
and
Devotion: A Memoir


"Why feel guilty when this wonderful book makes it so easy to feel—and be—green?"
–Kenneth Cook
, President,
Environmental Working Group


"Pennybacker cuts through the clutter of green retail claims, offering advice that's clear and concise. Heed her words, then spend your newfound time taking political action—she tells us how—to protect our planet."
–Elizabeth Royte
, author of
Garabageland
and
Bottlemania
"Mindy's mantra is "keep it simple" and for all of us who juggle work, families and the hope of being kind to the planet, this book is an outstanding primer to read on the checkout line.  A must-read for easy but meaningful things you can do keep your family and the planet healthy and happy."  
–Tensie Whelan
, President, Rainforest Alliance
Do One Green Thing
is a handy guide full of practical tips for everyday green living.  I hope it inspires many people to do many green things…for their well-being and the survival of our planet.
–Fred Krupp
, Environmental Defense Fund
Advertisement