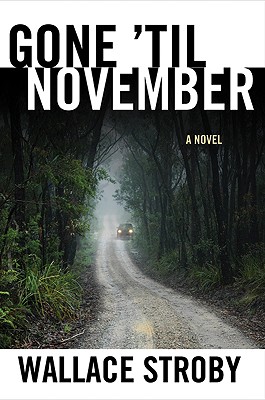 Gone 'til November
Hardcover

* Individual store prices may vary.
Other Editions of This Title:
Digital Audiobook (2/7/2010)
Paperback (1/4/2011)
MP3 CD (2/8/2010)
Compact Disc (2/8/2010)
Compact Disc (2/8/2010)
Compact Disc (2/8/2010)
MP3 CD (2/8/2010)
Description
It's late at night when Florida sheriff's deputy Sara Cross arrives at the scene of a roadside shooting along a deserted highway. Another deputy, Billy Flynn, her former partner, who also happens to be her former lover, has fatally shot a twenty-two-year-old man during what started out as a routine traffic stop, and she's the first to arrive on the scene. He claims that the man pulled a gun, and that when he didn't respond to Billy's commands to drop it, Billy shot him. Billy is clearly upset, shaken up; Sarah sees the gun in the dead man's hand and the bag of illegal weapons in the trunk of his car and believes Billy's actions were justified.

Up north in New Jersey, Mikey-Mike runs a major drug operation and is tightening his hold on the competition, making a deal with a new supplier. Morgan, a middle-aged enforcer for Mikey who's been in the life too long, would like to make one last score, walk away, and retire for good. Mike asks Morgan to head to Florida to find out what's holding up his new deal, and Morgan sees the job as a possibility for his last big payday.

As more details of the roadside shooting emerge with Sara's investigation, and as Morgan follows the trail Mikey lays out for him, the two storylines begin to merge into a much darker, more menacing scenario than either Morgan or Sara imagined. Sara, in order to protect herself and her son, must follow the truth no matter where it leads.

Acclaimed crime writer Wallace Stroby delivers a gripping novel that is part modern noir, part intense character study---and totally compelling from start to finish.
Praise For Gone 'til November…
Praise for Gone 'til November

"A tightly written crime novel peopled with believable, memorable characters who face real-life dangers... Stroby tells his tale swiftly and the action scenes move with cinematic brio."
--The Star-Ledger (New Jersey)

"This hardboiled novel, filled with believable characters, puts author Wallace Stroby in the company of noir masters like Dashiell Hammett and Elmore Leonard."
--The Huffington Post

"A strong cast and energetic storytelling. But it's Sara, so human and so beset, who makes this another standout for Stroby."
--Kirkus Review (starred review)

"Stroby begins his gritty new series with a bang. Sure to appeal to fans of Edna Buchanan and John Sandford."
--Library Journal

"Gone 'til November is rock-solid crime fiction that melds compelling characters, crisp writing, and a finely rendered portrait of Old Florida, the state's thinly populated, less-storied interior. Sara and Morgan, an aging career criminal who has just been diagnosed with cancer, are Stroby's best creations. Morgan is ruthless and resourceful, but he also has a quiet dignity and a streak of humanity that may have readers picturing actor Morgan Freeman."
--Booklist

"For those who favor a lean, tautly written police procedural--with an accent on firearms and plenty of them-- then Wallace Stroby's third novel will come as something in which to revel…. It's the action back on the streets of Newark, in the alleys between the boarded-up brownstones, that really grabs the reader's attention."
--Yahoo Shine

"Swiftly told but suspenseful, filled with moral choices and a bit of welcome ambiguousness at its end, Gone 'til November [has] a hell of a kick."
--January Magazine

"Stroby has not lost one iota of the magic that made his first two books instant classics ... He truly gets it right."
--Bookreporter.com

"In Gone 'til November, Wallace Stroby's mastery of character and dialogue is mated to a hellacious narrative engine. His heroine, Sara Cross, is a wonderful creation."
--George Pelecanos

"Just when you think that you can't be surprised anymore, a writer like Wallace Stroby ups the ante, finds a way to use familiar elements in new and surprising ways. This is a first-rate novel, with characters who live on in the reader's mind long after the book is finished. I always expect great things from Stroby, and Gone Till November is a significant addition to an already impressive body of work." 
-- Laura Lippman, author of What the Dead Know

"In these days of mega formulaic blockbusters, it seems almost impossible to find a novel that not only has depth of characterization, but a compelling plot. Gone Till November achieves both and seamlessly…. This novel sings, darkly and irresistibly."
--Ken Bruen, author of London Boulevard
Praise for The Heartbreak Lounge:

"Stroby continues to show a real flair for blending noir into a tightly plotted fireball of suspense in his second novel. The Heartbreak Lounge's tense story is complemented by believable characters—both heroes and villains… Stroby infuses his action-packed story with unpredictable twists. The Heartbreak Lounge continues the high standards Stroby set in his debut."
--South Florida Sun-Sentinel

"A cat-and-mouse story that inspires just the tiniest bit of sympathy for the predator... Readers will have a hard time putting down this three-ring circus of a book."
--The Star-Ledger (New Jersey)

Praise for The Barbed-Wire Kiss

"A scorching first novel that mixes the melancholic heart of tough-guy fiction with a fierce and violent gangster plot."
--The Washington Post Book World

"Stroby does wonders with his blue-collar characters."
--The New York Times Book Review
Minotaur Books, 9780312560249, 304pp.
Publication Date: January 19, 2010
About the Author
WALLACE STROBY is an award-winning journalist and a former editor at the Newark "Star-Ledger." This is his third novel, following the acclaimed "The Heartbreak Lounge" and the Barry Award--finalist "The Barbed-Wire Kiss." He lives in New Jersey.
or
Not Currently Available for Direct Purchase