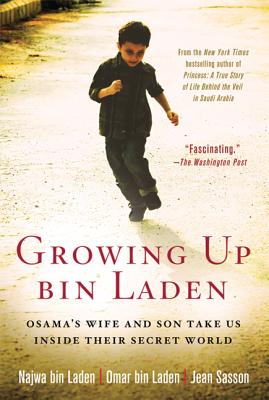 Growing Up Bin Laden (Paperback)
Osama's Wife and Son Take Us Inside Their Secret World
St. Martins Press-3pl, 9780312560874, 358pp.
Publication Date: December 7, 2010
* Individual store prices may vary.
Description
From the "New York Times" bestselling author of "Princess: A True Story of Life Behind the Veil in Saudi Arabia.
About the Author
Najwa bin Laden is Osama bin Laden's first wife and mother to eleven of his children. Omar bin Laden is Osama bin Laden's fourth-born son. Neither has been in contact with Osama bin Laden since leaving Afghanistan before September 11, 2001. The New York Times bestselling author Jean Sasson has lived and traveled extensively in the Middle East for the last thirty years and currently lives in Atlanta.
Praise For Growing Up Bin Laden: Osama's Wife and Son Take Us Inside Their Secret World…
"Apart from anything Bin Laden's wives may have to say that might be useful to intelligence officers..., there is also a powerful natural curiosity about the women and their children: What was it like to live with the founder of Al Qaeda, to call him husband or father? As with Hitler or Pol Pot, you want to understand whether his bizarre combination of grandiosity and viciousness carried over to domestic life — in Bin Laden's case, whether he perhaps was an eerily ordinary parent, complaining about what was for dinner, nagging the kids about their homework....
The most vivid look the American public has had at Bin Laden's family life is from a 2009 memoir by his son Omar bin Laden and Omar's mother, Najwa bin Laden. They wrote 'Growing Up bin Laden' with the assistance of Jean Sasson, an American writer. The book includes what may be the most complete account available of the terrorist's immediate family." --Scott Shane, The New York Times, May 15, 2011 "Fascinating. . . . Together, Najwa and Omar provide an intimate account of a family life that became steadily more dangerous and bizarre. . . . From affluence and comfort in Jeddah they were reduced to penury and privation in Afghanistan, all the wives and their many children living without electricity, running water, or even real beds, in forced pursuit of Osama's jihadist dreams." —The Washington Post