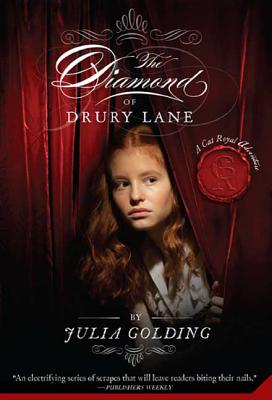 The Diamond of Drury Lane (Paperback)
Square Fish, 9780312561239, 424pp.
Publication Date: April 27, 2009
Description
Reader, you are set to embark on an adventure about one hidden treasure, two bare-knuckle boxers, three enemies, and four hundred and thirty-eight rioters. It is told by an ignorant and prejudiced author me.
She's Cat Royal, four foot four with long red hair and not a penny to call her own. She lives in the Theater Royal on Drury Lane, a place filled with dramatic characters, theatrical spectacles, and now, a secret treasure which Cat has been asked to protect. Her new friend Pedro, a former slave and gifted violinist, is eager to help, and so is the theater prompter, Jonathan, who is hiding secrets of his own. But when the ruthless gang leader Billy Shepherd learns about the treasure, Cat thinks she's going to lose it for sure. She still doesn't know what the treasure is, so how can she keep it safe from Billy and his gang? Follow Cat into the streets of London, as she faces danger and adventure, racing to be the first to discover the diamond of Drury Lane
The Diamond of Drury Lane is a 2009 Bank Street - Best Children's Book of the Year.
About the Author
Julia Golding attended Cambridge University then joined the UK Foreign Office and served in Poland. She exchanged diplomacy for academia and got her Ph.D. in the literature of the English Romantic Period at Oxford. She then joined Oxfam as a lobbyist on conflict issues, campaigning at the UN and with governments to lessen the impact of conflict on civilians living in war zones. Married with three children, she now lives in Oxford. Her next book in the continuing adventures of Cat Royal is Cat Among the Pigeons, available now from Roaring Brook Press.
Praise For The Diamond of Drury Lane…
The Diamond of Drury Lane has been named one of Booklist's Top Ten Mystery for Youth Books "Golding, who won a 2006 Smarties Prize for this in Britian, is a talented scene setter. From the spectacles in the theater to the filth of the city streets, she offers a view London readers can grasp with all their senses."—Booklist, Starred Review
"A remarkable debut novel. . . . Golding's fast-paced story abounds with atmosphere and adventure."—School Library Journal, Starred Review
"[A] fast-moving adventure . . . Golding situates her story precisely; often a few deft words bring the setting into satisfying, sharp focus."—The Horn Book
"The story itself plunges headlong from the theater into 1790s-era London's muddy streets and silken drawing rooms. Readers will be heartened to know that this is the first of a projected quartet (although it eschews a cliffhanger ending)."—Kirkus Reviews, Starred Review
Advertisement