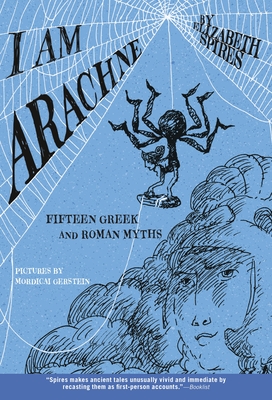 I Am Arachne
Fifteen Greek and Roman Myths
Paperback

* Individual store prices may vary.
Description
Spinning, I can't stop spinning, so stay a minute, and I, Arachne, will spin a story for you . . .
In this singular collection, the heroes and heroines of fifteen Greek and Roman tales give their own dramatic accounts of events. From the magnificent spinner Arachne, who learns that a mortal should never challenge a god, to the god Pan, who prefers Earth to Mount Olympus, to the beautiful, self-indulgent Pandora and the gold-stricken Midas—the reader becomes a confidant to the tellers of these sometimes humorous, sometimes sad, always engaging tales of wonder, woe, romantic love, and jealousy. Mordicai Gerstein's energetic, whimsical illustrations combine with Elizabeth Spires's playful renditions for a totally fresh take on familiar and not-so-familiar myths.
Praise For I Am Arachne: Fifteen Greek and Roman Myths…
"Spires, author of The Mouse of Amherst (1999) makes ancient tales unusually vivid and immediate by recasting them as first-person accounts. . . . Mordicai Gerstein's crosshatched ink drawings add touches of visual elegance to the stylish retellings. . . . a truly memorable read-aloud candidate." —Booklist
"Spires has a poet's ear for language." —Voice of Youth Advocates
Square Fish, 9780312561253, 112pp.
Publication Date: July 21, 2009
About the Author
I was born in Lancaster, Ohio, in 1952 and grew up nearby in Circleville.  By the time I was twelve, I had decided to be a writer.  My plan (influenced by my admiration for Flannery O'Connor) was to become a short story writer.   For some reason, that never happened.  Instead, in college at Vassar, I began writing poetry seriously.  This has led to my publishing four collections of poetry for adults (Globe, Swan's Island, Annonciade, and Worldling).  My daughter, Celia, who is seven, defined poetry one day (very appropriately, I thought) as "playing with words."  I have "played with words," I believe, in my writing for children: in two books of riddles, With One White Wing and Riddle Road, and, of course, in The Mouse of Amherst. Ever since I was a girl, I have admired and loved Emily Dickinson's poetry.  I have memorized many of her poems, and recently wrote a short piece on my first encounter with Dickinson for The Bulletin of the Poetry Society of America.  Although I didn't analyze my reasons for writing The Mouse of Amherst while I was writing it, I think now that I wanted to express the depth and complexity of poetic inspiration, friendship, and apprenticeship.  That's thinking of it purely in adult terms.  But I hope children will identify with Emmaline, the novice poet, and perhaps be inspired to write some poems themselves . . . for no reason other than the sheer joy of expressing themselves when they feel an emotion or idea bubbling up inside them.  Ideally, I hope my writing for children will lead them somewhere they have never been imaginatively, and that it will help them believe and delight in the power of words and language! Elizabeth Spires' work includes The Mouse of Amherst (1999), A Publishers Weekly Best Book of the year, I Am Arachne (2001), and her latest novel, I Heard God Talking to Me (2009)
Mordicai Gerstein (1935-2019) is the author and illustrator of The Man Who Walked Between the Towers, winner of the Caldecott Medal, and has had many books named New York Times Best Illustrated Books of the Year.
Gerstein was born in Los Angeles in 1935. He remembers being inspired as a child by images of fine art, which his mother cut out of Life magazine, and by children's books from the library: "I looked at Rembrandt and Superman, Matisse and Bugs Bunny, and began to make my own pictures." He attended Chouinard Art Institute in Los Angeles, and then got a job in an animated cartoon studio that sent him to New York, where he designed characters and thought up ideas for TV commercials. When a writer named Elizabeth Levy asked him to illustrate a humorous mystery story about two girls and a dog, his book career began, and soon he moved on to writing as well as illustrating.
The author of more than forty books, Gerstein lived in Westhampton, Massachusetts.