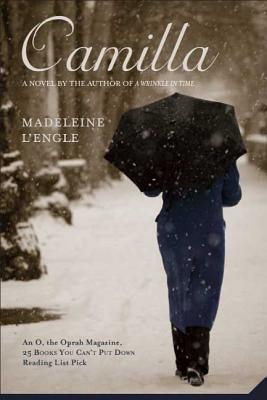 Camilla (Paperback)
Square Fish, 9780312561321, 253pp.
Publication Date: October 27, 2009
Description
Experience this story of first love by "A Wrinkle in Time "author Madeleine L'Engle. This classic novel is now a major motion picture, "Camilla Dickinson."
Fifteen-year-old Camilla Dickinson has led a sheltered life on the Upper East Side with her architect father and stunningly beautiful mother. But this winter the security she has always known has vanished, because her parents' marriage is coming apart - and Camilla is caught in the middle. She finds a way to escape her troubles when she meets Frank, her best friend's brother, who is someone she can really talk to about life, death, God, and her dream of becoming an astronomer. When Frank introduces her to the important people in his life, who are so different from anyone she has met before, he opens her eyes to worlds beyond her own, almost as if he were a telescope helping her to see the stars.
This novel, one of the author's earliest, is the story of a girl who, with the help of her first love, leaves childhood behind and enters adulthood with a newfound sense of self and inner strength.
About the Author
Madeleine L'Engle (1918-2007) was the Newbery Medal-winning author of more than 60 books, including the much-loved A Wrinkle in Time. Born in 1918, L'Engle grew up in New York City, Switzerland, South Carolina and Massachusetts. Her father was a reporter and her mother had studied to be a pianist, and their house was always full of musicians and theater people. L'Engle graduated cum laude from Smith College, then returned to New York to work in the theater. While touring with a play, she wrote her first book, The Small Rain, originally published in 1945. She met her future husband, Hugh Franklin, when they both appeared in The Cherry Orchard. Upon becoming Mrs. Franklin, L'Engle gave up the stage in favor of the typewriter. In the years her three children were growing up, she wrote four more novels. Hugh Franklin temporarily retired from the theater, and the family moved to western Connecticut and for ten years ran a general store. Her book Meet the Austins, an American Library Association Notable Children's Book of 1960, was based on this experience. Her science fantasy classic A Wrinkle in Time was awarded the 1963 Newbery Medal. Two companion novels, A Wind in the Door and A Swiftly Tilting Planet (a Newbery Honor book), complete what has come to be known as The Time Trilogy, a series that continues to grow in popularity with a new generation of readers. Her 1980 book A Ring of Endless Light won the Newbery Honor. L'Engle passed away in 2007 in Litchfield, Connecticut.
Praise For Camilla…
"Struggling to make sense of all that conflict, walking the snowy city streets with a boy named Frank, Camilla tries to fathom the sweet, slow progress of desire." —O, The Oprah Magazine
"A thought-provoking story about a young girl's first romance, her devastation over her own parents' marital problems, and the growth of her own sense of self is back in print and should find a wide audience among old and new L'Engle fans. Perceptive and timely."—Booklist
"Its themes and perceptions make it timeless. . . . Tender, understanding treatment of a difficult situation."—Bestsellers
"There is a remarkable similarity between this book and J. D. Salinger's The Catcher in the Rye. Both are told in the first person, and both are concerned with the problems of a sensitive adolescent faced suddenly with the necessity of crossing the dividing line between childhood and maturity. Ms. L'Engle's Camilla has more innate strength and stability than Salinger's Holden Caulfield."—Saturday Review
"This is an ambitious book that explores a range of techniques . . . and character."—School Library Journal
Advertisement