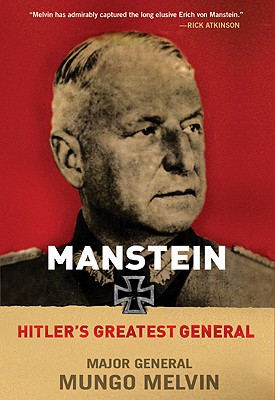 Manstein (Hardcover)
Hitler's Greatest General
Thomas Dunne Books, 9780312563127, 647pp.
Publication Date: June 7, 2011
* Individual store prices may vary.
Description
Among students of military history, the genius of Field Marshal Erich von Manstein (1887 1973) is respected perhaps more than that of any other World War II soldier. He displayed his strategic brilliance in such campaigns as the invasion of Poland, the Blitzkrieg of France, the sieges of Sevastopol, Leningrad, and Stalingrad, and the battles of Kharkov and Kursk.
Manstein also stands as one of the war's most enigmatic and controversial figures. To some, he was a leading proponent of the Nazi regime and a symbol of the moral corruption of the Wehrmacht. Yet he also disobeyed Hitler, who dismissed his leading Field Marshal over this incident, and has been suspected by some of conspiring against the Fuhrer. Sentenced to eighteen years by a British war tribunal at Hamburg in 1949, Manstein was released in 1953 and went on to advise the West German government in founding its new army within NATO.
Military historian and strategist Mungo Melvin combines his research in German military archives and battlefield records with unprecedented access to family archives to get to the truth of Manstein's life and deliver this definitive biography of the man and his career.
About the Author
MAJOR GENERAL MUNGO MELVIN is Senior Directing Staff (Army), Royal College of Defence Studies, London. He has directed the British Army's Strategic and Combat Studies Institute, managed the Higher Command and Staff Course at the Joint Services Command and Staff College, and served as Director of Operational Capability in the Ministry of Defence.
Praise For Manstein: Hitler's Greatest General…
"Mr. Melvin's biography is meticulously researched, and his treatment of Manstein's military prowess is thorough."—The Wall Street Journal "A searing portraint of soldierly prowess in a disastrous cause, Melvin's comprehensive, judicious account will become the standard biography of Manstein in English."—Publishers Weekly
"A comprehensive, vivid portrait . . . Major General Mungo Melvin has admirably captured the long elusive Erich von Manstein in a book of particular relevance to today's readers." —Rick Atkinson, Pulitzer prize–winning author of An Army at Dawn

"Superb . . . Mungo Melvin writes with penetrating analysis and fine prose about the greatest strategic brain of any side in the struggle."—Andrew Roberts, author of Masters and Commanders
"This crisp, compelling book, the first full-scale biography of Manstein in English . . . grapples with the Manstein myth and gets the measure of the man." —Daily Express (UK)

"Melvin is well attuned to the moral compromise of the Wehrmacht's senior officers and his biography is markedly nuanced." —The Times (UK)

"A long-overdue analysis of this German Field Marshal . . . Few authors are as qualified to write this book as General Melvin, one of the foremost thinkers in the British Army. . . . [A] compelling yet unflinching portrait of one of the military geniuses of the twentieth century." —Military History Quarterly

"More than a biography of a great commander; this is a penetrating account of a general's conflict with his political leader and the moral dilemmas involved." —Soldier magazine
or
Not Currently Available for Direct Purchase