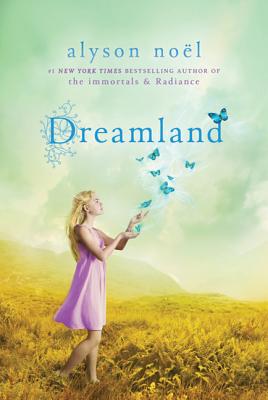 Dreamland (Paperback)
A Riley Bloom Book
Square Fish, 9780312563752, 224pp.
Publication Date: September 13, 2011
Other Editions of This Title:
Digital Audiobook (9/12/2011)
Compact Disc (9/13/2011)
* Individual store prices may vary.
Description
In Dreamland, the third book in Alyson Noël's beloved young adult series, Riley Bloom's finding that the afterlife can be a lonely place when all you do is focus on work. So she goes to the place where dreams happen, hoping to find a way to contact her sister, Ever. She meets the director, who tells her about the two ways to send dreams. As a Dream Jumper, a person can jump into a dreamer's dream, share a message, and participate. As a Dreamweaver, an entire dream can be created in a studio and sent to the dreamer. But Dreamweaving was outlawed decades ago, and the studio was boarded up. Thinking it's her only way to reach out to her sister, Riley goes in search of the old studio. There she finds a ghost boy, who's been creating and sending nightmares to people for years. In order to stop him and reach out to Ever, Riley is going to have to confront and overcome her own fears.
About the Author
Alyson Noël is the #1 New York Times bestselling, award-winning author of Faking 19, Art Geeks and Prom Queens, Laguna Cove, Fly Me to the Moon, Kiss & Blog, Saving Zoë, Cruel Summer, and the Immortals series including Evermore, Blue Moon, Shadowland, Dark Flame, and Night Star, as well as the Immortals spin-off series beginning with Radiance. With over 2 million copies in print in the US alone, her books have been published in 35 countries and have won awards including the National Reader's Choice Award, NYLA Book of Winter Award, NYPL Stuff for the Teenage, TeenReads Best Books of 2007, and Reviewer's Choice 2007 Top Ten, and have been chosen for the CBS Early Show's "Give the Gift of Reading" segment, and selected for Seventeen Magazine's "Hot List" and Beach Book Club Pick. She lives in Laguna Beach, California.
Praise For Dreamland: A Riley Bloom Book…
"Riley, who appeared in ghost form to her older sister, Ever, in Noël's bestselling Evermore, takes center stage in this middle-grade spinoff, first in a planned series. . . . her wit, attitude, and maturation should have readers gladly following her into the second installment." —Publishers Weekly
"I must admit there is not one thing I don't like about this book. I just listed it all the pros and there are no cons. I would rate it FIVE STARS if I was a critic. And I guess I am. Now I have something to look forward to, the second book coming out in Spring 2011." —Hadley, at AllyKatzz.com
"I like Riley . . . She's faced with challenges and loves to meet them head-on. I'm very pleased with this book. . . . Riley's story is touching, moving, and uplifting." —Biliophilic Book Blog
"Narrating in a contemporary voice with an honest and comfortable cadence, Riley is imperfect, but always likable as she sweeps readers to her faraway land where she makes herself and readers assess their behaviors and, quite possibly, make adjustments. In the midst of this wildly fanciful setting, Noël is able to capture with nail-on-the-head accuracy common worries and concerns of today's tweens." —School Library Journal
"A tale for lovers of the genre . . . For those preteens who like a mild supernatural adventure with romantic overtones, you go, ghost." —Kirkus Reviews
"Riley is such a great, refreshing character and I loved her voice. She has some great inner monologues that made me laugh out loud . . . I really enjoyed Radiance . . . I'd definitely recommend YA fans of Alyson Noël to pick it up. I'm looking forward to finding out what happens next with Riley and Bodhi." —Mundie Moms
"Alyson did a great job writing Radiance. It was what I expected and more . . . She was able to catch that young voice and portray it beautifully. . . . Radiance is a great summer read. I give it 5 BITES!" —Books With Bite
"Another highly creative and well thought out series for Alyson Noël! . . . Noël creates another imaginative world that is so well described it sucked me in from the very beginning. She has a very poetic style of writing that will appeal to any age . . . I highly recommend." —Bellas Novella
"Radiance is a sweet story, a perfect summer read . . . Like the Immortals series, Noël's world building is superb. Radiance was the perfect book to tide me over until the next Immortals book comes out. As far as middle-grade books go, it's one of the best I've read." —I'd So Rather Be Reading
"I think I found a great new series with tons of potential, and that series starts with Radiance . . . This book is so cute!" —Bloody Bookaholic
"I loved reading this book! . . . Its beauty and simplicity blend perfectly with romance and humor. I'm sad that I must wait until next year for Shimmer, the sequel. I will definitely miss Riley, Bodhi, and Buttercup! Also the cover is just beautiful!" —Novel Thoughts
"The author has a way of making the world she has created come off the pages and into your mind! A book that will keep you captivated from page one until Riley's flight of Radiance at the end!" —My Overstuffed Bookshelf