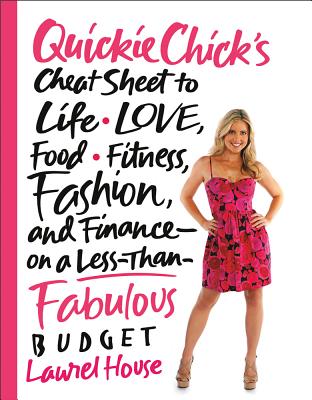 QuickieChick's Cheat Sheet to Life, Love, Food, Fitness, Fashion, and Finance on a Less-Than-Fabulous Budget (Paperback)
Griffin, 9780312564568, 288pp.
Publication Date: May 22, 2012
* Individual store prices may vary.
or
Not Currently Available for Direct Purchase
Description
Based on the popular "QuickieChick "website, lifestyle expert Laurel House's new book "QuickieChick's Cheat Sheet to Life, Love, Food, Fitness, Fashion, and Finance on a Less Than Fabulous Budget "(St. Martin's Griffin/May 2012) offers quick tips for smart, sassy, independent chicks. This is "the "essential manual on life's lessons delivered in fun, snappy, and instantly-gratifying bites of information. Beyond a fab pair of stilettos, a big shot mentor and a go-to ab workout, "QuickieChick "reminds us that what every chick "really "needs are the 3Gs: Gumption, Grace, and Guidance.

"QuickieChick "is filled with professional advice from business entrepreneurs, exclusive tips straight from celebrities, insightful anecdotes from real women who have "been there and done that," end of chapter cheat sheets that simplify the steps to success in concise and actionable advice, and fun quizzes that help you find out who you "really "are. This is the perfect rescue handbook for post-grad girls about life and how to live it fabulously on a budget.
"QuickieChick "features practical solutions that guide you through:
How to ace the job interview
How to gain financial independence, move out of your parents' place, and avoid roommate drama
Quickie workouts for every location: in bed, at the office, on an airplane, in the kitchen, and more
How to get a boost of confidence by wearing "power panties"
1-ingredient refrigerator facials: how to get fab skin by using ingredients found in your fridge
Dating and dumping: when to leave, when to stay, where to meet guys, and how to keep them hooked
Work party protocol: how to dress, what to say, and how to act
How to throw a fab cocktail party on a budget with no stress
Finding a mentor.
About the Author
LAUREL HOUSE is best known as QuickieChick and provides fast, simple workouts and advice for every day girls. This three-time published author and lifestyle expert has written hundreds of articles that have appeared in national and online magazines including in Women's Health, Men's Journal, LA Daily News, and more. She currently contributes regularly to Yahoo!Shine and Discovery's Planet Green.
Praise For QuickieChick's Cheat Sheet to Life, Love, Food, Fitness, Fashion, and Finance on a Less-Than-Fabulous Budget…
Advance praise for QuickieChick's Cheat Sheet to Life, Love, Food, Fitness, Fashion, and Finance on a Less Than Fabulous Budget:

"QuickieChick is like the cool, wise big sister you always wanted...in a book. She knows exactly what you need to know and tells it to you straight, all the while cheering you on and reminding you that you are also one really cool, wise chick." —Christine Hassler, author of 20-Something, 20-Everything and 20 Something Manifesto 
"Laurel's quickie solutions for whatever life throws your way are more than helpful—they scream for immediate inspiration and implementation! Laurel House has done us all a huge favor by sharing her wisdom, experience, and humor with quickie solutions that only a young-hearted, but clever old soul could do." —Nancy Spears, CEO/founder of genConnect.com and author of Buddha 9 to 5
"QuickieChick is filled with need-to-know insight on renting, roommates, saving money, and spending within your means but feeling like you're living beyond them. Chicks will use this book as a cheat sheet to life. Dudes should use this book as a cheat sheet to chicks." —Josh Altman, from Bravo's Million Dollar Listing
"Life's coveted cheat sheet, QuickieChick offers immediately gratifying, valuable nuggets of wisdom with actionable tips to find your passion, define your dreams, and be true to yourself…while remembering to have lots of fun along the way!" —Sean Aiken, author of The One-Week Job Project
"We all know accessories are some of the best statement-makers when it comes to expressing your uniqueness...but one can not live on bling alone. QuickieChick teaches the basics on how to develop your own personal style, while adding that 'GODDAMN!' factor you need to stand out in a crowd." —Brian Burkhardt, winner of Lifetime's Project Accessory
Advertisement