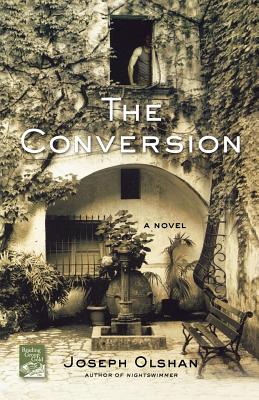 The Conversion
A Novel
Paperback

* Individual store prices may vary.
Other Editions of This Title:
Hardcover (4/15/2008)
Description
Russell Todaro, a young American translator, moves to Paris to take stock of his life and goals only to further lose himself in the surprising twists fate has in store for him. One night, two men waving guns and knives break and enter their Paris hotel room, terrorizing Russell and his much older companion, a famous American poet named Edward Cannon. The intruders, not finding what they seemingly expected, leave without further incident but the baffling, traumatic events overwhelm Cannon who dies in his sleep later that night. Now Russell is left to ponder the meaning of the attack, what to do with the poet's unfinished, problematic memoir and, perhaps most importantly, how to reconstruct and move forward with his own life.
Hearing of the disturbing circumstances of Cannon's death, an Italian writer, Marina Vezzoli, invites Russell to recuperate at her villa in Tuscany. But what at first seems like a generous invitation slowly reveals itself to be a calculated offer. As Russell's stay in Italy lengthens, he begins to realize that the people in his life are using or manipulating him, most of all the poet's New York publishers who, against the dying man's wishes, are trying to acquire his unfinished manuscript. Looming over everything is the long and fascinating legacy of Villa Guidi, where during Word War II a Jewish family hid in the subterranean floors, later undergoing a conversion to Catholicism. In an echo of this dramatic history, Russell is forced to undergo a conversion of his own in order to find redemption and meaning in his life.
Praise For The Conversion: A Novel…
"Beautiful, bittersweet…This fervent story of love and loss, of the perils and pleasures of intimacy, is depicted with a sure, light touch and with universal resonance and appeal." —New York Times Book Review on Nightswimmer
"Olshan writes prose that sings." —Los Angeles Times Book Review on A Warmer Season
"A beautifully written story of love, betrayal and loss." —People Magazine on Nightswimmer
"…a finely written and compassionate book. Its quality is immediately apparent….a novel characterized by poetic instinct rather than documentary panache." —The Sunday Times (London) on The Waterline
"Authentically moving." —Newsweek on A Warmer Season
"Extraordinarily mature….Here is a writer in total command of his narrative." —Ian McEwan on Clara's Heart
"Olshan's novels are novels of great obsessions, of transcendent moments of perfect love set against a backdrop of hovering betrayal and death." —The Guardian (London) on Vanitas
St. Martin's Griffin, 9780312565565, 304pp.
Publication Date: June 23, 2009
About the Author
Joseph Olshan is the award-winning author of eight novels. His first novel was Clara's Heart, which went on to be made into a film starring Whoopi Goldberg. His other novels include Nightswimmer and In Clara's Hands. In addition he has written extensively for newspapers and magazines and for several years was a professor of Creative Writing at New York University. He spends most of the year in Vermont.