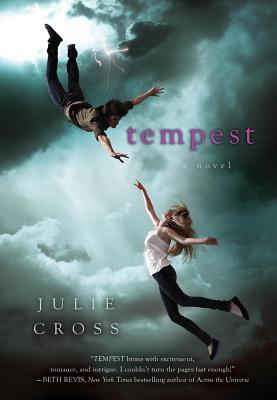 Tempest (Hardcover)
A Novel (The Tempest Trilogy #1)
St. Martin's Griffin, 9780312568894, 352pp.
Publication Date: January 17, 2012
Other Editions of This Title:
Digital Audiobook (1/16/2012)
Paperback (12/11/2012)
Paperback, French (9/8/2011)
Hardcover (1/1/2012)
Pre-Recorded Audio Player (4/2/2013)
Compact Disc (1/17/2012)
* Individual store prices may vary.
Description
The year is 2009. Nineteen-year-old Jackson Meyer is a normal guy… he's in college, has a girlfriend… and he can travel back through time. But it's not like the movies – nothing changes in the present after his jumps, there's no space-time continuum issues or broken flux capacitors – it's just harmless fun.
That is… until the day strangers burst in on Jackson and his girlfriend, Holly, and during a struggle with Jackson, Holly is fatally shot. In his panic, Jackson jumps back two years to 2007, but this is not like his previous time jumps. Now he's stuck in 2007 and can't get back to the future.
Desperate to somehow return to 2009 to save Holly but unable to return to his rightful year, Jackson settles into 2007 and learns what he can about his abilities.
But it's not long before the people who shot Holly in 2009 come looking for Jackson in the past, and these "Enemies of Time" will stop at nothing to recruit this powerful young time-traveler. Recruit… or kill him.
Piecing together the clues about his father, the Enemies of Time, and himself, Jackson must decide how far he's willing to go to save Holly… and possibly the entire world.
About the Author
JULIE CROSS lives in central Illinois with her husband and three children. She never wrote fiction before May of 2009, but since then, hasn't gone a day without writing. She is the author of The Tempest Trilogy.
Praise For Tempest: A Novel (The Tempest Trilogy #1)…
2016 ILLINOIS READS's list for grades 9-12
"I have seen the future and it is Jackson Meyer! I loved Julie Cross's engrossing and engaging TEMPEST. If I could time-jump, I'd read the sequel yesterday at the very latest." —Nancy Holder, New York Times bestselling author of the CRUSADE series
"Julie Cross's thrilling debut is brimming with excitement, romance, and intrigue. I couldn't turn the pages fast enough!" —Beth Revis, New York Times-bestselling author of ACROSS THE UNIVERSE
"Jackson Meyer is a 19-year-old Upper East Sider with a loving and loyal girlfriend, a brilliant and funny best friend and an unexpected and exciting new talent. Jackson can suddenly "jump" back and forth in time. Cross takes readers on a thrilling ride as Jackson struggles to harness his abilities in a desperate attempt to learn the truth about who he is and, even more importantly, who he can trust. The characters are…complex and distinct, they will work their way into readers' hearts and stay with them long after the book is finished. Equal parts adventure, romance, science fiction…readers will turn the last page and find themselves wishing they could "jump" to the future and read the sequel." —KIRKUS REVIEWS, starred review
"Debut author Cross launches a trilogy with an exciting and complex page-turner about difficult choices. Nineteen-year-old Jackson Meyer can travel in time, but he's no Doctor Who--he can only make short jumps backward, and he can't change anything. It's all harmless experimentation until his girlfriend, Holly, is shot when two gunmen attempt to kidnap him. Panicked, Jackson jumps back two years and gets stuck there. The consequences of unprepared time travel and Jackson pretending to be his 17-year-old self are amusing, but as he explores his life and pursues Holly (now his girlfriend-to-be), the already gripping story escalates. Jackson discovers his father's secret life with a shadowy government agency called Tempest, and father and son become tangled with violent rival time travelers determined to alter the course of history. As Jackson explores his powers, he has no idea which side to trust or who is trying to kill him, and failure to make the right decisions threaten worldwide repercussions. It's a story packed with moments both tender and electric--Cross's zippy writing and fresh plot are an exhilarating combination." —Publishers Weekly
"It's likely readers will want to time travel to early 2013 to read book No. 2 in this fast-paced and inventive series." —The Los Angeles Times
"One of my favorite books of 2012." —EW.com
"'Okay, so it's true. I can time travel. But it's not as exciting as it sounds.' Actually, it is every bit as exciting as it sounds. And the more Jackson learns about his powers and the nature of time travel, the more thrilling this novel gets. At first the teen treats his ability as a benign experiment and fodder for his geeky buddy's theorizing, but soon his talent becomes the key to saving his girlfriend and, quite possibly, the world. After watching Holly get shot, Jackson learns that most of what he knows about himself and his family is a lie and that powerful, opposing forces are willing to do just about anything to have him and his developing powers on their side. While the details of time travel are complex, they don't overpower the story, which remains focused on Jackson's relationships with Holly and his father. Teens looking for a romantic, high-adrenaline novel will have a hard time putting this one down. Jackson's sacrifice at the end will tug on heart strings and leave readers hungry for the next installment in a projected trilogy." —Library Journal
"This fast-paced spy thriller/romance packs a surprising emotional punch that leaves you wanting to leap into the future to devour the upcoming sequel." —Entertainment Weekly
"Once I started TEMPEST, I couldn't put it down. Once I finished TEMPEST, I was dying for the next installment. Julie Cross takes readers on an unforgettable trip through time in this inventive, suspenseful and romantic tale. A thrilling debut from a fantastic new voice." —Courtney Summers, Award-Winning author of CRACKED UP TO BE and SOME GIRLS ARE
"A good thriller moves forward at high speed, but only a superlative thriller can take you on a breathtaking journey through the fourth dimension. Julie Cross's ingenious story is vividly imagined and splendidly rendered, hitting just the right notes with liberal doses of suspense, intrigue, and romance. Throw in a pitch-perfect cast of engaging characters, and you've got a blockbuster young adult debut that will keep readers glued to the pages." —Sophie Littlefield, Award-Winning author of BANISHED
"For time traveler Jackson Meyer, the past is the key to his increasingly dangerous future. But who can he trust? The CIA? His mysterious father? Or his conspiracy-theory addicted best friend? A maze of ingenious twists and turns, TEMPEST takes you on a magic carpet ride that will have you flipping pages to the end." —Jana Oliver, author of THE DEMON TRAPPER'S DAUGHTER
or
Not Currently Available for Direct Purchase