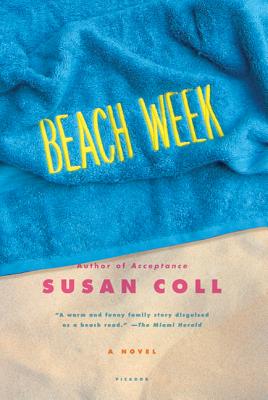 Beach Week (Paperback)
Picador USA, 9780312569228, 320pp.
Publication Date: May 24, 2011
Description
Ah, Beach Week: a time-honored tradition in which the D.C. suburbs' high school grads flock to Chelsea Beach for seven whole days of debauchery. In this dark comedy, ten teenage girls plan an unhinged blowout the likes of which their young lives have never seen. They smuggle vodka in water bottles and horde prescription drugs by the dozen. Meanwhile, their misguided, affluent parents are too busy worrying about legal liabilities to fret over some missing pills or random hookups.
With the wit of Nora Ephron and the insight of Tom Perrotta, Susan Coll satirizes a teenage rite of passage, in the process dissecting the lives of families in transition.
About the Author
Susan Coll is the author of the novels Acceptance (FSG, 2007), karlmarx.com, and Rockville Pike. A film adaptation of Acceptance, starring Joan Cusack, aired on Lifetime Television in 2009. Coll lives in Washington, D.C., with her husband, the writer Steve Coll.
Praise For Beach Week…
"A taut, terrifying thriller that will greatly amuse anyone who doesn't have children. Beach Week is a must-read for any parent whose teenager wants to go on a senior trip, or even out of the house." —Larry Doyle, author of I Love You, Beth Cooper

"Like a rogue ocean wave or a deer through your windshield on a lonely shore road, Beach Week packs a punch. There's hilarious hypocrisy and satire as sharp as a glass shard on the boardwalk—Susan Coll is very funny as she lightly barbeques a suburban summer tradition. Yes, that's vodka in the water bottles, and yes, that's an Ivy League–bound teen in a steamy bathroom clinch: it's time to swap the rose-colored glasses for sunglasses and a pitcher of blue Kool-Aid margaritas." —Helen Simonson, author of Major Pettigrew's Last Stand

"Hysterically funny." —Kirkus Reviews

"Coll offers a true beach read: no social commentary, all romp." —Danise Hoover, Booklist


"Readers wanting an unflinching look at a marriage in trouble and the tribulations of raising a teenage daughter will enjoy this quick read from the author of Acceptance." —Rebecca Vnuk, Library Journal

"It might seem odd to describe a novel that involves barfing in cars, stalking boys and a drunk dad playing beer pong in his underpants as heartwarming, but Beach Week author Susan Coll is a master at finding wisdom in the unexpected . . . The hilarious and witty Beach Week is [a] reminder to parents and children alike to chill." —Lizzie Skurnick, NPR
"This satirical tale, rife with texting and prescription pills, is a surprisingly authentic rendering of the American teenager—and her guardians, who aren't paying attention." —More.com
Advertisement