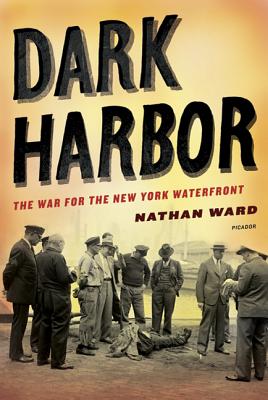 Dark Harbor: The War for the New York Waterfront (Paperback)
The War for the New York Waterfront
Picador USA, 9780312569341, 264pp.
Publication Date: May 24, 2011
Description
""They'd never kill a reporter...." "On the morning of April 29, 1948, a West Side pier hiring boss was shot on his way to work. The murder reminded the "New York Sun"'s city editor of a similar docks killing from the year before, and so he called over his best general assignment man, Malcolm "Mike" Johnson, telling him, "Lots of unrest down there. Maybe you can get a story out of it." Johnson certainly did, discovering the greatest story of his long career, and a "waterfront jungle" with "rich pickings for criminal gangs." His crime series ran on the "Sun"'s front page for twenty-four days in the fall of 1948, raising a national scandal and bringing death threats on him and his family. Johnson alleged the existence of an international crime "syndicate," at a time when J. Edgar Hoover would not admit that such a syndicate, let alone a Mafia, existed.
Herein, Nathan Ward tells the original Mob story, "revealing a spiderweb of union corruption and outright gangsterism....His story has everything" ("New York Sun"), making "Dark Harbor" a modern true crime classic.
About the Author
Nathan Ward, who was an editor with American Heritage, has written for The New York Times and other publications. He lives in Brooklyn, New York, not far from the Red Hook piers. He is the author of Dark Harbor: The War for the New York Waterfront and The Lost Detective: Becoming Dashiell Hammett.
Praise For Dark Harbor: The War for the New York Waterfront…
"Meticulous reporting, a keen eye for detail, and an elegant writing style...terrific." —Jonathan Eig, The New York Times Book Review
"True crime done right, sharply researched and written with an economy of language...as atmospheric as a two a.m. stroll down the wharf on a late October night." —Allen Bara, The Daily Beast
"Brilliant." —New York magazine
"Riveting." —New York Post
"This gritty examination of the corrupt New York City waterfront...has all of the local color, rich detail, and notorious gangland figures of Elia Kazan's film masterpiece, On the Waterfront. Extremely valuable to all interested in twentieth-century New York City." —Publishers Weekly (starred review)
"Nathan Ward's elegant and affectionate visit to gangster New York in the 1940s is excellent true crime and true histroy.
Dark Harbor
goes on the shelf next to Joseph Mitchell and A.J. Liebling." —Alan Furst, author of
Night Soldiers
"Carefully researched, Nathan Ward's
Dark Harbor
nonetheless reads as if it were ripped from the day's headlines. Here is the real—and fascinating—story of the waterfront." —Kevin Baker, author of
Strivers Row
"True-crime and film fans alike will be engrossed by Ward's street-savvy research into the original waterfront." —Gilbert Taylor,
Booklist
Advertisement