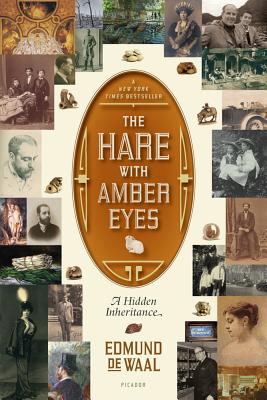 The Hare with Amber Eyes
A Hidden Inheritance
Paperback

* Individual store prices may vary.
Other Editions of This Title:
Digital Audiobook (5/31/2011)
Paperback (5/4/2021)
CD-Audio (6/9/2015)
Description
A New York Times Bestseller
An Economist Book of the Year
Costa Book Award Winner for Biography
Galaxy National Book Award Winner (New Writer of the Year Award)

Edmund de Waal is a world-famous ceramicist. Having spent thirty years making beautiful pots—which are then sold, collected, and handed on—he has a particular sense of the secret lives of objects. When he inherited a collection of 264 tiny Japanese wood and ivory carvings, called netsuke, he wanted to know who had touched and held them, and how the collection had managed to survive.

And so begins this extraordinarily moving memoir and detective story as de Waal discovers both the story of the netsuke and of his family, the Ephrussis, over five generations. A nineteenth-century banking dynasty in Paris and Vienna, the Ephrussis were as rich and respected as the Rothchilds. Yet by the end of the World War II, when the netsuke were hidden from the Nazis in Vienna, this collection of very small carvings was all that remained of their vast empire.
Praise For The Hare with Amber Eyes: A Hidden Inheritance…
"A family memoir written with a grace and modesty that almost belie the sweep of its contents: Proust, Rilke, Japanese art, the rue de Monceau, Vienna during the Second World War. The most enchanting history lesson imaginable." —The New Yorker

"An extraordinary history...A wondrous book, as lustrous and exquisitely crafted as the netsuke at its heart." —The Christian Science Monitor

"A lovely, gripping book." —The Wall Street Journal

"Enthralling . . . [de Waal's] essayistic exploration of his family's past pointedly avoids any sentimentality . . . The Hare with Amber Eyes belongs on the same shelf with Vladimir Nabokov's Speak, Memory." —Michael Dirda, The Washington Post Book World

"This is a book Sebald would have loved." —The Irish Times

"At one level [Edmund de Waal] writes in vivid detail of how the fortunes were used to establish the Ephrussis' lavish lives and high positions in Paris and Vienna society. And, as Jews, of their vulnerability: the Paris family shaken by turn-of-the century anti-Semitism surging out of the Dreyfus affair; the Vienna branch utterly destroyed in Hitler's 1937 Anschluss . . . At a deeper level, though, Hare is about something more, just as Marcel Proust's masterpiece was about something more than the trappings of high society. As with Remembrance of Things Past, it uses the grandeur to light up interior matters: aspirations, passions, their passing; all in a duel, and a duet, of elegy and irony." —Richard Eder, The Boston Globe

"Absorbing . . . In this book about people who defined themselves by the objects they owned, de Waal demonstrates that human stories are more powerful than even the greatest works of art." —Adam Kirsch, The New Republic

"Delicately constructed and wonderfully nuanced . . . There are many family memoirs whose stories are as enticing as Edmund de Waal's. There are few, though, whose raw material has been crafted into quite such an engrossing and exquisitely written book as The Hare with Amber Eyes . . . One of the great triumphs of The Hare with Amber Eyes . . . is not just the assiduous way in which de Waal interrogates his raw evidence--scattered articles and newspaper cuttings, old paintings, forgotten buildings--but the way he summons up different eras so evocatively . . . [De Waal] is, too, as you would expect of a potter, wonderfully tactile in his investigations, interrogating the physical feel of the Ephrussis' different buildings, touching surfaces, assessing materials. This sensuality transmits itself also to his prose, which is beautiful to read--lithe and precise, crisp and delicate. The result is a memoir of the very first rank, one full of grace, economy, and extraordinary emotion." —Andrew Holgate, The Barnes & Noble Review

"Remarkable . . . To be handed a story as durable and exquisitely crafted as this is a rare pleasure . . . Like the netsuke themselves, this book is impossible to put down. You have in your hands a masterpiece." —Frances Wilson, The Sunday Times (London)

"From a hard and vast archival mass of journals, memoirs, newspaper clippings and art-history books, Mr. de Waal has fashioned, stroke by minuscule stroke, a book as fresh with detail as if it had been written from life, and as full of beauty and whimsy as a netsuke from the hands of a master carver. Buy two copies of his book; keep one and give the other to your closest bookish friend." —The Economist

"What a treat of a book! It projects an iridescent mirage that once was real, a pageant of exquisite fragility, an aesthetic passion somehow surviving the brutalities of history. Mr. de Waal's nostalgia is tart, tactile, marvelously nuanced." —Frederic Morton, author of A Nervous Splendor: Vienna, 1888/1889 and The Rothschilds: Portrait of a Dynasty

"A self-questioning, witty, sharply perceptive book . . . The Hare with Amber Eyes is rich in epiphanic moments . . . By writing objects into his family story [de Waal] has achieved something remarkable." —Tanya Harrod, The Times Literary Supplement

"A beautiful and unusual book . . . [A] unique memoir of [de Waal's] family . . . De Waal has a mystical ability to so inhabit the long-gone moment as to seem to suspend inexorable history, personal and impersonal . . . A work that succeeds in several known genres: as family memoir, travel literature (de Waal's Japan is the nearest thing to being there, and over decades), essays on migration and exile, on cultural misperceptions, and on de Waal's attempt to define his relationship with his own kaolin creations. His book is also a new genre, unnamed and maybe unnameable." —Veronica Horwell, The Guardian

"Part family memoir, part Proustian confession, subtle, spare and elegant." —Hilary Spurling, The Independent

"A marvelously absorbing synthesis of art history, detective story and memoir . . . A nimble history of one of the richest European families at the turn of the century . . . Remarkable." —Kirkus Reviews
Picador, 9780312569372, 368pp.
Publication Date: August 2, 2011
About the Author
Edmund de Waal is an artist who has exhibited in museums and galleries around the world. His bestselling memoir, The Hare with Amber Eyes, has won many prizes and has been translated into twenty-nine languages. The White Road, a journey into the history of porcelain, was published in 2015. He lives in London with his family.
Charles, like the rest of Paris, became swept up in the fad of "japonisme", which led to the original purchase of the netsuke. What did these objects represent to their collectors in the Belle Epoque?
In addition to his passion for Durer and the Old Masters and Japanese art, Charles radically embraced the Impressionists. What did he love about that new style? Which of these art spheres seems most quintessentially "Charles"?
Did you develop any new impressions of the major French art figures–Degas, Renoir, Proust–in light of their interaction with Charles?
How did the relationship between collector, patron, and artist evolve from Charles's Paris to Viktor's Vienna to Iggie's Tokyo? Where does Edmund fall in these roles?
The word "insatiability" was used by anti-Semites as a way to propagandize against Jewish families' material success. Why does this word become such a slur? How might the term apply more positively to collectors of things — and stories?
Why did Charles give away his beloved netsuke to Viktor and Emmy?
Edmund remarks on the coldness and lack of texture in the Palais at Vienna. What do the differences between Charles's salon in Paris and Viktor's grand Palais say about the two men?
Do you agree with Edmund's assessment that the netsuke need not go back to Japan; that their travels and stories have given them an identity of their own?
Are stories more important than objects in a family legacy? How are they related?
The Ephrussi patriarch Charles Joachim had a vision for his family, but it was dependent upon the future generations' aptitude and willingness. How do the Ephrussi childrens' responses to their "calling" vary? How does Edmund's book fit into the Ephrussi legacy?
You've likely read many accounts of Nazi raid and Jewish persecution at the start of the occupation, but did anything surprise you or stand out in this account of the takeover of the Palais?
Viktor and Emmy received vague warnings about the coming threats and were encouraged to flee their home. Would you have been able to walk away from such history and treasures without knowing what was ahead?
Viktor essentially sacrificed the Ephrussi dynasty for the sake of his new home country, Austria. Do you think anti-Semetic pressure drove him to become a perfectly loyal citizen, or did Viktor's allegiance represent his true feeling?
Edmund originally thought that all the Ephrussi "vagabonding" stemmed from a desire to develop culturally and grow from the provincialism of Odessa. But he realized that Odessa itself was a very culturally rich city. Why do you think it was so important for the Ephrussis to send tendrils of their families to different cities?
Why do you think Iggie renounced his American citizenship, a purely symbolic act?
or
Not Currently Available for Direct Purchase