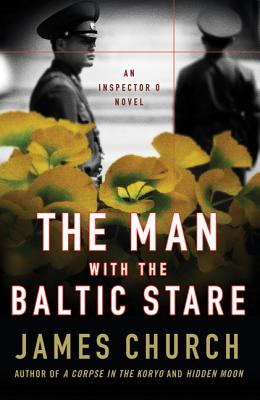 The Man with the Baltic Stare
An Inspector O Novel (Inspector O Novels #4)
Paperback

* Individual store prices may vary.
Other Editions of This Title:
Digital Audiobook (8/15/2011)
MP3 CD (9/1/2011)
Compact Disc (1/1/2013)
Compact Disc (9/1/2011)
Description
The mysterious Inspector O is once again drawn into a web of concessions and cover-ups in the newest mystery from critically acclaimed author James Church.

Autumn brings unwelcome news to Inspector O: wrenched from retirement, he has been ordered to Pyongyang for an assignment. The two Koreas are now cooperating--very quietly--to maintain stability in the North. Stability requires compromise; stability requires peace; stability requires that O investigate a crime of passion committed by the young man who has been selected as the best leader of a transition government.

O is instructed to make sure the case goes away. Then he learns that several groups—remnants of the old regime, foreign powers, rival gangs—all want a piece of the action, and all make clear that if O values his life, he will not get in their way. O isn't sure where his loyalties lie, and he doesn't have much time to figure out whether 'tis better to be noble or be dead.

Once again, James Church's spare, lyrical writing illuminates an unfamiliar landscape of whispers and shadows, a place few outsiders have ever experienced. The Man with the Baltic Stare is a chilling, atmospheric noir—a fascinating response to the works of Martin Cruz Smith and John Le Carre.
Praise For The Man with the Baltic Stare: An Inspector O Novel (Inspector O Novels #4)…
"Inspector O is a complex, nuanced figure who understands that the regime he serves is corrupt, brutal and mendacious, but he remains loyal.... I think many North Korean officials today are an echo of the conflicted nationalist Inspector O." —The New York Times

"The central character is a Pyongyang police officer, the likeable Inspector O, who knows that in North Korea mysteries are never solved, just absorbed into larger mysteries…. Mr. Church keeps his own counsel, so it is not known how he comes by his information, but the scenic details and atmospherics suggest more than a passing acquaintance with the realities of life in North Korea." —The Economist

"Each Inspector O novel is a strange new trip through the looking glass, and this one is every bit as praiseworthy as its predecessors." —Booklist, starred review

"Church once again shows an extraordinary ability to bring that enigmatic country to life, a feat made even more impressive by the wholly plausible near-future setting. Satisfied readers will hail Church as the equal of le Carré." —Publishers Weekly, starred review

"In literary retirement, [Church] employs the accumulated intelligence to get inside 'enemy' skin—using the character of Inspector O to show the spectrum of emotions, ideals and historical sensibilities through which a jaded yet ultimately loyal North Korean apparatchik might make sense of his country's plight." —Wall Street Journal

"The Man With The Baltic Stare is a spy thriller supreme…Church steers a suspenseful route of elegant twists and hairpin turns." —Dayton Daily News

"While publishers comb the fjords for the next Stieg Larsson, readers devoted to bleak international noir would do better to turn their attention from Northern Europe to Asia. North Korea, to be exact. The hero of The Man With the Baltic Stare, the fourth and perhaps last in a series of excellent crime novels following Inspector O, might not know how to use the cell phone he sometimes has to carry. But like Larsson's heroine, a petite Asperger-ish libertarian in the land of large blondes and big government, the self-contained Inspector O bucks the stereotypes that we associate with his country." —Slate.com

"A suspenseful plot." —AolNews.com

"The secretive world comes alive in Church's 'Inspector O' series of novels in descriptive prose so accurate that experts who have seen North Korea from the inside say the books should be required reading for diplomats, military leaders and others seeking an understanding of the social and political fabric of the 'Hermit Kingdom'." —Stars and Stripes
Minotaur Books, 9780312569419, 288pp.
Publication Date: August 16, 2011
About the Author
JAMES CHURCH (pseudonym) is a former Western intelligence officer with decades of experience in Asia. He has wandered through Korea for years. No matter what hat he wore, Church says, he ran across Inspector O many times.