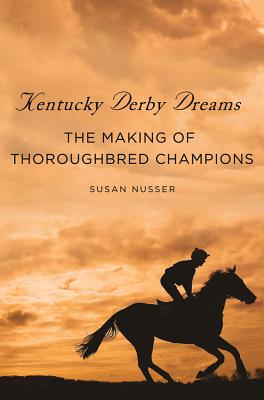 Kentucky Derby Dreams (Hardcover)
The Making of Thoroughbred Champions
Thomas Dunne Books, 9780312569907, 288pp.
Publication Date: April 24, 2012
* Individual store prices may vary.
Description
Author Susan Nusser takes readers inside the excitement and suspense at one of Kentucky's biggest breeding farms. Every year, two hundred broodmares in the farm's barns give birth to the next generation of racehorses. In the eighteen months following their births, those foals will meet the world's most skilled and knowledgeable horsemen from grooms to veterinary orthopedists who will shape them in to the kinds of yearlings that attract the attention of the sheikhs, moguls, and magnates who prowl the yearling sales, hunting for their next Derby winner.
From the carefully calculated birth of the new crop of foals to the horses' debut at the world's premier yearling sale in Lexington, Kentucky, this is a rare behind-the-scenes look at the vets, the surgeries, the long hours, and the hard work that it takes to breed a Derby hopeful." Kentucky Derby Dreams" follows the lives of foals born during the 2009 foaling season and uncovers the inside drama and heartache that accompany these potential champions from the foaling barn to the sales ring. Compelling, fascinating, and fast-paced, this is a must read for anyone who's ever watched the Kentucky Derby.
About the Author
SUSAN NUSSER is the author of "In Service to the Horse," which explored the bond that develops between one of Kentucky's most valuable stallions and his groom and between other competition horses and their grooms. She teaches writing at Carroll University and lives in Milwaukee with her husband, daughters, cats and a pit bull.
Praise For Kentucky Derby Dreams: The Making of Thoroughbred Champions…
"A journalistic tour de force, perhaps the best nonfiction ever penned about the troubled horse business."
--Jim Squires, author of Headless Horseman
"Reading Nusser's book is tantamount to visiting horse country and never wanting to leave. It's a well-written, superbly researched narrative that will enlighten every reader and perhaps bring more people into the irresistible yet hard-driving world of breeding, training, and racing horses."
--Ann Hagedorn Auerbach, author of Wild Ride
"Once again, Susan Nusser proves her writing skills, perception of human nature, and depth of equine knowledge…Nusser vividly recounts the daily human efforts and emotion that combine the create a perfect racehorse… Entertaining and thoughtful."
--Sandra L. Olsen, Ph.D, Head of Anthropology, Carnegie Museum of Natural History
or
Not Currently Available for Direct Purchase