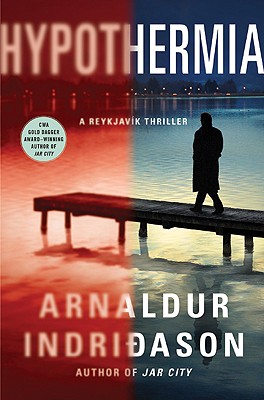 Hypothermia (Hardcover)
An Inspector Erlendur Novel
Minotaur Books, 9780312569914, 320pp.
Publication Date: September 14, 2010
* Individual store prices may vary.
or
Not Currently Available for Direct Purchase
Description
"Indridason fills the void that remains after you've read Stieg Larsson's novels."- USA Today on Hypothermia
Inspector Erlunder has spent his entire career struggling to evade the ghosts of his past.  But ghosts are visiting him, both in the form of a séance attended by a dead woman and also in the reemerging puzzle of two young people who went missing 30 years ago. And there's the ghost of the detective's disastrous marriage, which, despite the pleas of his drug-addled daughter, he is unwilling to confront. In addition, he's still obsessed with the disappearance of his brother, who vanished without a trace when they were boys.
He can only run from his ghosts for so long, and, when they finally catch up with him, Erlunder is forced to face the heart shattering truth of his past.
One of the most haunting crime novels readers are likely to encounter this year or any other, this is classic story that belongs on the shelf of every serious reader of suspense fiction. Hypothermia will chill you to the bone.
About the Author
Arnaldur Indridason, author of the Reykjavik Thrillers, was born in 1961. He worked at an Icelandic newspaper, first as a journalist and then for many years as a film reviewer. He won the Glass Key Award for Best Nordic Crime Novel for both "Jar City" and "Silence of the Grave," and in 2005 "Silence of the Grave" also won the Crime Writers Gold Dagger Award for best crime novel of the year. The film of Jar City (available on DVD) was Iceland's entry for the 2008 Academy Award for Best Foreign Film. Indridason lives in Reykjavik with his family.
Praise For Hypothermia: An Inspector Erlendur Novel…
Unanimous Acclaim for Arnaldur Indridason and the Inspector Erlendur Sveinsson series

"The best new series I've read this year. Arnaldur Indridason is already an international literary phenom---and it's easy to see why. His novels are gripping, authentic, haunting and lyrical. I can't wait for the next."
- Harlan Coben on Silence of the Grave

"Arnaldur Indridason is a writer of astonishing gravitas and talent."
- John Lescroart on Jar City

"A commanding new voice . . . puts Iceland on the map as a major destination for enthusiasts of Nordic crime fiction."
- Marilyn Stasio, The New York Times Book Review on Silence of the Grave

"No wonder Arnaldur Indridason won so many awards. He's a great storyteller, and American readers will overwhelmingly agree."
- C.J. Box, Anthony Award winning author of Blue Heaven on Jar City

"Excellent . . . compelling . . . the denouement of this astonishingly vivid and subtle novel is unexpected and immensely satisfying."
- Publishers Weekly (starred review) on Silence of the Grave

"Classic mystery fiction, both compassionate and thrilling. Indridason is one of the brightest stars in the the genre's dark skies."
- John Connolly on Jar City

"Remarkable . . . another top-notch story from Indridason, its lyrical melancholy matched by the depth of its characterizations."
- Kirkus Reviews (starred review) on Voices

"Reminiscent of Simenon."
- Reginald Hill on Jar City

"Every one of these writers is good [Hakan Nesser, Kjell Eriksson, Ake Edwardson, Helene Tursten, Karin Fossum], but in my book, Arnaldur Indridason is even better."
- Joe Queenan, Los Angeles Times

"Dark, haunting . . . touched me in a way that few mystery novels do."
- Hallie Ephron, The Boston Globe on Jar City

"A wonderfully storyteller. It's impossible to put the book down once you begin reading."
- The Globe and Mail on Voices

"Fans of mystery in general and Henning Mankell and Karin Fossum can only exult."
- Library Journal (starred review) on Jar City

"Indridason has definitely vaulted onto the A-list of Scandinavian crime authors."
- Booklist on Silence of the Grave
Advertisement